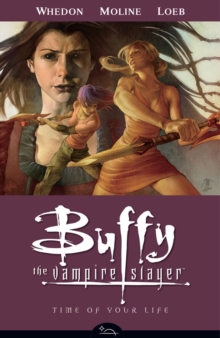 Buffy the Vampire Slayer Season 8 Volume 4: Time of Your Life
Paperback
Information
Format: Paperback
Pages: 320 pages, 1 Illustrations, unspecified
Publisher: Dark Horse Comics,U.S.
Publication Date: 05/05/2009
Category: Horror & ghost stories
ISBN: 9781595823106
Free Home Delivery
on all orders
Pick up orders
from local bookshops
Reviews
Showing 1 - 5 of 17 reviews.
Previous | Next
Review by Rhinoa
16/06/2015
Buffy is sent into the future where she meets Fray (she has her own spin off comic). Fray is a future Slayer and was called after the Slayer line was dormant for many decades. There is only one Slayer in the future, so what happened to all the other Slayers Buffy awakened? There is an enemy in the future that Buffy must defeat once and for all, but can she make herself do it...
Review by timjones
16/06/2015
I enjoyed reading this issue, but it was still the least satisfying volume of the series so far. It consists as usual of a four-issue arc followed by a standalone one-shot. "Time of Your Life" is an appropriate title: the main arc takes Buffy forward in time, while the one-shot takes her back to Season 1, in a print realisation of the never-completed Buffy: The Animated Series.The one-shot is superb, but, despite some interesting moments and Dawn's star turn as a ... spoiler alert ... centaur, the main arc didn't engage me. It plunges Buffy into the world of future Slayer Melaka Fray, and little concession is made to people like me who haven't read the Fray comics. The action - leaping from air-car to air-car - would have looked great on TV, but in the confines of a comic it was underwhelming.Not the team's best work, then, but it hasn't dampened my enthusiasm for the Buffy: Season 8 comics as a whole.
Review by fyrefly98
16/06/2015
Summary:Time of Your Life combines what's previously happened in Season Eight with what happened in the Fray comics, and assumes you've read both - not much explanation is given for folks who haven't. If you haven't read Fray, put down this review, don't even think about picking up Time of Your Life, and go read it. It's short; I'll wait.Okay, everybody caught up? In Time of Your Life, Buffy is caught in a temporal disturbance that winds up transporting her to the future Manhattan, where she meets the Slayer Melaka Fray. Once there, she's forced to wonder: What happened between her time and Fray's time? How did they get from a world with hundreds of Slayers worldwide to only the single Slayer, with no sense of her history or heritage? What role did Twilight play in the creation of this future? And how - and why - is Buffy in the future, anyways? The arc mostly focuses on Buffy and Melaka's stories, but back in the present day, we do get some nice moments from the rest of our regulars, including a magical attack on the Scotland fortress, and Dawn learning yet another reason why it's a bad idea to mess around with a Thricewise. The volume rounds off with a one-off story involving Buffy dreaming she's back in high school.Review: Woohoohoo, boy, do things get *interesting* in this volume! I can't really talk about how they get interesting without spoiling the major reveals, but suffice to say there are plenty of twists, turns, flip-flopping of sides, and familiar faces showing up (although not always in the context I had expected.) It's not clear how (or if) the main plot is related to Twilight's aims, and it still feels like we're in the set-up phase of the season... many more questions (and "it's a long story"s) are being presented than are being answered. Of course I've got faith that Joss knows where this whole thing's going, and is going to tie the pieces together eventually, but it definitely makes me antsy waiting for the next installment.The way this installment ties together the present-day Buffyverse with the bleak future mapped out in Fray makes me wonder if Joss actually had Season 8 in mind back in 2002/3, when Buffy S7 was airing and Fray was being published. There is a long way to go between the hundreds of Slayers that Buffy and Willow raised, and Fray's world of half a Slayer, and it just seems to jive so well with Twilight's goals that either it was planned long in advance, or else there's some well-designed retconning in play. Stories involving time travel and mucking about with the future/past have to be done really carefully to avoid gaping plot holes, and I'm reserving final judgment on this one until I see how it all pans out, but so far, so good. I think my least favorite part about this volume was the artwork. Judged on its own merits, it's totally fine, but in the context of previous volumes, it's not quite as good. Karl Moline, who also did the pencils for Fray, drew the majority of this volume, and it looks to me like he was trying to split the difference between the style of Fray and the style of the rest of Buffy Season 8. The result, however, is that a lot of the characters aren't immediately recognizable, or that they're only identifiable because of their eye-patch, or hair color, or clothing. There were even a few times (including one big reveal) where it took me several panels to figure out who a character was supposed to be. Regardless, though, Time of Your Life is a fascinating addition to the story, and now I can't wait for the next volume to come out. 4 out of 5 stars.Recommendation: Buffy fans will be devouring this volume with or without my recommendation, I'm sure, but I wasn't kidding: read Fray first!
Review by catfantastic
16/06/2015
The fourth volume of "Buffy Season Eight" is much weaker then the first three. The plot is quite convoluted and involves Buffy being hurled into the future, where she meets Melaka Fray. This is a crossover with Joss Whedon's previous graphic novel about a future slayer, but the plot charges along at such a rate that little background information is provided for fans who have not read "Fray." The plot is difficult to follow, and the return of a villain from the series who <i>should</i> be emotionally devastating, is resolved in an anti-climatic and unsatisfying way. The artwork by Karl Moline is also disappointing - it's much worse then the work he did on "Fray," and the characters are nearly unrecognizable. In fact, one major plot reveal is rendered <i>incomprehensible</i> because it is simply unclear whom the artist is illustrating. The stand-alone story at the end was essentially an episode of the "Buffy" children's cartoon that was planned at one point, but never produced, and is drawn in the ultra-cartoony style of a children's Saturday morning program under the guise of a dream sequence, but did nothing to further the plot.Rating: 2/5 - still a fun read, but definitely not the high point of "Buffy Season Eight."Recommended: only to fans who have read "Fray," and fans who wish there was a Buffy Saturday morning cartoon.
Review by LisaMaria_C
16/06/2015
This is my least favorite volume of Season 8 so far. It largely involved Buffy traveling to the future where she meets Melaka Fray--the one and only slayer in her time. Apparently Whedon did some Fray comics, and maybe fans of that will find this installment has more resonance and makes more sense. I found it by and large confusing--and I don't find Moline an improvement over Jeanty. I often found myself not recognizing the figures, and in the case of one of the big reveals--which I felt ambivalent about--I wasn't even sure if that's who I thought it was... In the case of another major reveal, I felt, we'd been there, done that, and I didn't much like that story arc the first time. On the other hand, one thing I always liked about Whedon is he never flinches from the repercussions of things he sets up. I do like how this series is continuing to develop the consequences particularly of Willow's acts--both in bringing Buffy back and in imbuing all the potentials with the full powers of slayers. And I did love a lot of the humor--particularly Buffy's response to Fray's slang. Such as when Buffy says, "Boy the English language is just losing it. I should have treated it better."