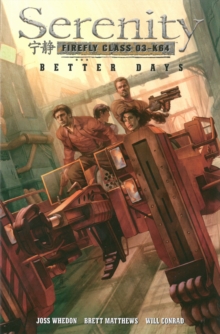 Serenity Volume 2: Better Days
Paperback
Information
Format: Paperback
Pages: 128 pages, 1 Illustrations, unspecified
Publisher: Dark Horse Comics,U.S.
Publication Date: 28/09/2008
Category: Comics and Graphic Novels
ISBN: 9781595821621
Free Home Delivery
on all orders
Pick up orders
from local bookshops
Reviews
Showing 1 - 5 of 16 reviews.
Previous | Next
Review by Homechicken
16/06/2015
This was a great story. Not a follow-up to Those Left Behind, but a totally separate story where Mal and his crew pull a heist that ends up netting them millions of credits. There's also a revelation about Zoe's past that you can certainly believe in but don't expect. It was a fun story, and I hope there will be many more.
Review by Anome
16/06/2015
I deliberately didn't buy this in issues when it came out because the cover illustrations disturbed me. Sadly, they are preserved as chapter headings in the trade paperback.As much as I like these characters, I didn't really find this story very satisfying. I think it may have suffered from Whedon's attention span, split between a new TV show, an internet show, Buffy, Angel, and Astonishing X-Men. Given the work he has been doing with Buffy and Astonishing, this should have been better. Maybe I need to read it again to get a better sense.
Review by ElizaJane
16/06/2015
This graphic novel takes place sometime during the regular timeframe of Firefly. The crew finally have themselves a heist that ends up in uncovering a huge amount of cash. As they daydream what they will do with all the money, someone is chasing them down coming to kill Malcolm Reynolds, but little does he know that it is in fact another member of the crew who he wants. Fun romp with the wonderful Firefly/Serenity characters. Nothing too special but a bit of fun to read. The artwork is fun and an introduction by Adam Balwin (Jayne) is an added bonus.
Review by Pagemistress
16/06/2015
The chief joy of these graphic novels is, of course, spending time with the much-loved and dearly missed crew of Serenity. This second graphic outing doesn't seem to hang together quite as well as the first, but for those of us who still mourn the passing of Firefly, it's worth the investment.
Review by fyrefly98
16/06/2015
Summary: Mal and the rest of the crew of Serenity are pretty used to having their heists not going exactly to plan. What they're not used to is to having their heists go better than planned. When a job turns up unexpected millions, the crew has to deal with suddenly being rich... and they all take a turn planning to do with their cut. But the good times never last, and soon they run up against not one but two men who want to take everything away - for good.Review: Three things to know about Serenity: Better Days:1) It is listed as Volume 2, but that is purely a publishing order. Better Days and Those Left Behind both take place between the end of Firefly the show and before the movie Serenity, but plot-wise, they're totally unrelated to each other, and Better Days actually comes first in the show's internal chronology. 2) It is the equivalent of a single episode of TV. It is therefore short, even for a graphic novel. This means that while it is very fast-moving, it also doesn't explain a some fairly large details, and that since there are not one but two baddies, neither of them are developed particularly well. 3) It still looks and feels very much like a Joss Whedon script, with everyone sounding like themselves, and with a few nice callbacks to earlier episodes. Everyone mostly looks like themselves as well, and while there were a few visual notes that struck me as out of place (highways with traffic-jammed cars? on a central planet?), there were also a few bits (namely, River's plans for her share of the booty) whose awesomeness counteracted any of the other quibbles I had. 3.5 out of 5 stars.Recommendation: I liked Those Left Behind better, mostly because of its better-developed story, but any excuse to spend an hour with the Serenity crew is a welcome one.