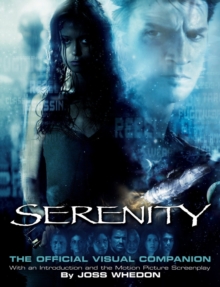 Description
Five hundred years in the future, Captain Mal Reynolds and the crew of the transport-for-hire ship Serenity take on two new passengers and soon find themselves in a crossfire between an invincible military force and cannibalistic savages.
Writer/director Joss Whedon, creator of "Buffy the Vampire Slayer" and "Angel", makes his long-awaited feature film directorial debut with "Serenity", based on his cult television series "Firefly".
This large format, full color companion to the movie features: a special Introduction by Joss Whedon; an in-depth interview with him about the making of the film; the full shooting script, including scenes cut from the final edit; fascinating production and background memos by Whedon, including "A Brief History of the Universe", circa 2507 A.D.; and scores of stunning movie stills, storyboards and pieces of production art.
Information
Format: Paperback
Pages: 160 pages, colour illustrations
Publisher: Titan Books Ltd
Publication Date: 01/09/2005
Category: Science fiction
ISBN: 9781845760823
Other Formats
Paperback from £6.45
Hardback from £10.55
Free Home Delivery
on all orders
Pick up orders
from local bookshops
Reviews
Showing 1 - 5 of 5 reviews.
If you love(d) Joss Whedon's Firefly or Serenity, this book is a must have. It features production stills, preproduction sketches, storyboards, and background material, along with the complete shooting script. Not sure what the Chinese the crew used meant? This book will tell you.The images provide you with plenty of easy-to-use reference material if you're planning to build a model of Serenity, do drawings of the characters or ships, or do other fannish crafty things.There's also a nice interview with Joss, complete with Joss's standard witty responses.
Review by neontapir
16/06/2015
Beautiful pictures and sketches accompany the screenplay.
Review by xicanti
16/06/2015
This book is a must-have for any Firefly/Serenity fan. It contains the complete shooting script for the film, a long interview with Joss, notes on production issues, brief commentaries from the nine major cast members, storyboards, tons of film stills, preproduction concept art, a history of the Firefly universe... just about everything you could want, really. I only wish there'd been more of it.The book is put together very nicely, and in such a way that there are no major spoilers. You'll definitely get more out of it if you've seen the movie already, but I think you could safely read the interview and early behind-the scenes stuff ahead of time, then return to the script after watching the film.These behind-the-scenes bits really are good. I was most interested in what Joss has to say about the adjustments he made to present this story as a movie instead of a television show. It was a fascinating look inside the process.Overall: great stuff. Definitely find yourself a copy of this if you like the TV show/movie!
Review by shanaqui
16/06/2015
Like the official companions to the series, the Serenity companion has the shooting script and various extras -- Joss Whedon's thoughts on stuff like art and music, lots of pictures, galleries of designs and stuff, bits about the background of the show and the movie... Well worth having, if you're a fan, and beautiful too.
Review by Claire5555
16/06/2015
Really enjoyed it, a true brown coats fan.