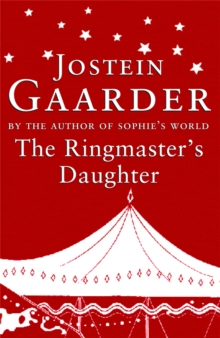 The Ringmaster's Daughter
Paperback
Description
From the author of SOPHIE'S WORLD, 'A masterful mixture of fantasy and reality...a simply wonderful read' SHE.Panina Manina, a trapeze artist, falls and breaks her neck.
As the ringmaster bends over her, he notices an amulet of amber around her neck, the same trinket he had given his own lost child, who was swept away in a torrent some sixteen years earlier.This tale is narrated by Petter, a precocious child and fantasist, and perhaps Jostein Gaarder's most intriguing character since Sophie.
As an adult, Petter makes his living selling stories and ideas to professionals suffering from writer's block.
But as Petter sits spinning his tales, he finds himself in a trap of his own making.
Information
Format: Paperback
Pages: 224 pages
Publisher: Orion Publishing Co
Publication Date: 04/09/2003
ISBN: 9780753817001
Free Home Delivery
on all orders
Pick up orders
from local bookshops
Reviews
Showing 1 - 3 of 3 reviews.
Review by StuartAston
16/06/2015
This follows the life of Petter who starts off as a bullied child who sells his homework skills through to Petter The Spider who sells ideas to authors for books when they have writers block.Petter make very few friends one of whom is Maria who he tells his stories to and fathers a child. They go their seperate ways and years later he starts thinking about her when ideas he has sold start appearing as books in Germany. Is Maria trying to get back in touch?The ending of the book brings Petters world crashing down due to story told which was too late.Gaarders books are always great to read but you need to get on the same wavelength as him to fall into the trap of what is always a great read. The shame is with this book by the time I got fully into it I was already half way through. But it was fun!
Review by lilywren
16/06/2015
In the past I have enjoyed reading Gaarder's work and I was looking forward to reading The Ringmasters Daughter. However, I got up to p95 and have to say I put it away. I hate not finishing a book, hate it! I will often fight to get to the end but on this occasion I just thought 'either life is too short or I am just not feeling Gaarder anymore'.I shouldn't review a book I never finished and I suppose I won't review this fully. It is each to her/his own and other reviews give glowing accounts of this book which show how this rings true. I have to admit I was bored and the characters did nothing for me. The main character annoyed me and I just thought 'I really am not enjoying this so why bother?'. It is a shame because I have read many of Gaarders' other books and have really enjoyed them.
Review by Evalangui
16/06/2015
Second reads are strange. Particularly when they are about a decade apart. I still love Jostein´s writing but his content... His main character´s attitude to women rattles. And his attitude to people in general is rather too detached, which I can see my younger self loving. But while I still sympathy with how stories are the end of all of life for him, his complete disregard for human beings that he clearly understands SO well, comes off as creepy and psychopathic. If the character was not a grown man, I could maybe give him a little leeway but since his change of heart at the end is left incomplete and he´s almost fifty, it seems a bit unlikely that he will end up as someone I can think well off.<br/><br/>Anyway, it´s definitely worth reading if you are narratively inclined yourself, as the reflections on stories and storytelling are fascinating. One thing that he never seems to get that clearly, in his self-involved adoration, is that people who write are writers, and he himself is not superior for being able, in fact, being unable not to, come up with the plots and ideas for the stories but not to write. His feelings of superiority towards people who can actually TELL a story, gets rather annoying since THAT is the hardest part. I also found it quite strange that he never seemed very interested in any stories but the ones he made up, he mentions reading other books that those he inspired and even liking them but there is no love there. In fact, his early relationship to fiction seems to be born out of love but later it seems to feed a compulsion more than a passion.<br/><br/>