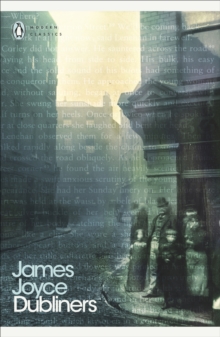 Description
James Joyce's Dubliners is an enthralling collection of modernist short stories which create a vivid picture of the day-to-day experience of Dublin life.
This Penguin Classics edition includes notes and an introduction by Terence Brown.Joyce's first major work, written when he was only twenty-five, brought his city to the world for the first time.
His stories are rooted in the rich detail of Dublin life, portraying ordinary, often defeated lives with unflinching realism.
From 'The Sisters', a vivid portrait of childhood faith and guilt, to 'Araby', a timeless evocation of the inexplicable yearnings of adolescence, to 'The Dead', in which Gabriel Conroy is gradually brought to a painful epiphany regarding the nature of his existence, Joyce draws a realistic and memorable cast of Dubliners together in an powerful exploration of overarching themes.
Writing of social decline, sexual desire and exploitation, corruption and personal failure, he creates a brilliantly compelling, unique vision of the world and of human experience.James Joyce (1882-1941), the eldest of ten children, was born in Dublin, but exiled himself to Paris at twenty as a rebellion against his upbringing.
He only returned to Ireland briefly from the continent but Dublin was at heart of his greatest works, Ulysses and Finnegans Wake.
He lived in poverty until the last ten years of his life and was plagued by near blindness and the grief of his daughter's mental illness.If you enjoyed Dubliners, you might like Joyce's Ulysses, also available in Penguin Modern Classics.'Joyce redeems his Dubliners, assures their identity, and makes their social existence appear permanent and immortal, like the streets they walk'Tom Paulin'Joyce's early short stories remain undimmed in their brilliance'Sunday Times
Information
Format: Paperback
Pages: 368 pages
Publisher: Penguin Books Ltd
Publication Date: 01/02/2000
ISBN: 9780141182452
Other Formats
Paperback from £13.45
EPUB from £3.99
Free Home Delivery
on all orders
Pick up orders
from local bookshops
Reviews
Showing 1 - 5 of 6 reviews.
Previous | Next
Review by ostrom
16/06/2015
I've always liked this book better than the novels.
Review by Kplatypus
16/06/2015
Maybe this will make me sound like a donkey, but I didn't know this was a collection of short stories going in so when the story in the first chapter was not picked up in the second, it came as quite a surprise. I'm not generally a big fan of short stories, but there was something appealing about these. They weren't page-turning, gripping adventures, by any means, but they drew fascinating little portraits of everyday people, one by one painting a picture of Dublin as seen by Joyce.My first attempt at Joyce was Finnegan's Wake, which turned out to be, of course, a terrible idea. For several years I shunned the man due to that experience, in fact. Recently, however, I read A Portrait of the Artist as a Young Man and now Dubliners and I'm starting to see why people love him so. He's not the kind of writer that will end up on my favorites list, I suspect, but he's moved off of my most hated list as well. I tend to like blasting, emotionally-charged, flowery, intense books- like Edith Wharton, Thomas Hardy, Dostoevsky, and their ilk- so the pleasure that I'm finding in Joyce, which is more of a seeping-in, slowly absorbed pleasure, is quite a change. Rarely do I read in such small chunks but I found that I could only enjoy Dubliners when I read a singe story then let it settle for a while. One of these days I will try Ulysses and then, when I'm feeling brave (and have a guide), Finnegan's Wake. Got to work my way up to them though.
Review by jharlton
16/06/2015
He wrote this at 25! Wow! I'm jealous. Learned a little about music, little about green eyes, little about galoshes, little about the social realm, little about love, little about carving turkeys, little about symbols, little about being a kid, little about sisters. And there is tons more. This is like a mine where the gold grows rather than gets used up.
Review by devandecicco
16/06/2015
second only to A Portrait of the Artist... to me.
Review by eleanor_eader
16/06/2015
Capturing the essence of middle-class Ireland in the early 1900s, this is a collection of 15 short stories changing in mood and character, but constant in theme. The age of the protagonists rises from the first story to the last, but all are engaged in some sort of defining internal moment or thought. The last story, <i>The Dead</i> was perhaps the most profound example of this, but it is possible to capture that defining moment in each tale. <i>The Dead</i> was also the most moving story, for me, although I was also touched and disturbed by both <i>A Painful Case</i> and <i>Clay</i>. I confess, not being an appreciator of Irish Lit, most of the rest of the stories did little for me, but I am in awe of Joyce's short story telling ability, nonetheless.
Also in the Penguin Modern Classics series | View all