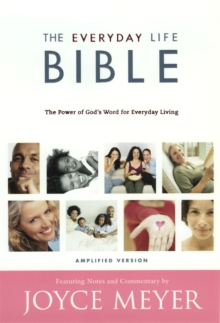 The Everyday Life Bible : Containing the Amplified Old Testament and the Amplified New Testament
Hardback
Description
Inside the pages of The Everyday Life Bible, readers will experience the opportunity to study Scripture as if Joyce were sitting next to them, chapter by chapter and verse by verse.
This Speciality Bible contains five standing features: Book Introductions--Joyce's thoughts on why each book of the Bible is important and how it relates to practical living, as well as background for better understanding the Bible.
Everyday Life Articles--Highlights of the many principles Joyce has taught over the course of her ministry, each tied to a specific verse or passage to help the reader apply that specific biblical truth to his or her life.
Life Points--Short quotes and comments from Joyce offering readers encouragement and wisdom during challenging times. Putting the Word to Work--Questions that enable readers to evaluate their lives and apply the Scriptures in their everyday situations.
Speak the Word--Verses adapted to be first-person confessions or prayers (placed near the corresponding verse), bringing the promises of the Bible to a new, personal level. The Everyday Life Bible takes the wealth of Joyce's teaching and weaves it into the Amplified version of the Bible--the same version she uses on her programme, the same version all her readers can now use at home.
Information
Format: Hardback
Pages: 2208 pages
Publisher: Time Warner Trade Publishing
Publication Date: 01/10/2006
ISBN: 9780446578271
Free Home Delivery
on all orders
Pick up orders
from local bookshops
Reviews
Showing 1 - 3 of 3 reviews.
Review by mjs4him
16/06/2015
This is the first copy of the Amplified Bible I have owned. This has become my favorite translation for study. There are times that I come across a verse that makes little sense, but I always have other translations handy to help explain the verse to me. I love this translation, and Joyce Meyer's notes add fullness to this Bible.
Review by Babygirl25661
16/06/2015
Love this Bible!!! I've always had trouble reading the bible but this one is so easy to understand. Using the Amplified version, Joyce adds her commentary and examples from her experiences, which really helps the reader to apply the word to their daily life.
Review by RuthsChristBookstore
16/06/2015
A fresh translation couched in understandable language, May 4, 2000 By Rosemary Thornton (Norfolk, VA) An example: (okay, my favorite passage) 'I have overcome the world.' (Jesus Christ) The Amplified Bible translates this: 'I have deprived the world of the power to harm you.' The Amplified Bible is my favorite Bible translation. I was impressed with the fact that this Bible goes back to the original Hebrew and Greek translations instead of retranslating the translations.The 23rd Psalm, the 91st Psalm - all the favorites take on powerful new meanings with the reading of this Bible.I would highly recommend this Bible to anyone who loves to dig deep into the spiritual meaning and practicality of God's word. I recently pulled out my leather copy of this AB (I have both the hardcover and leather editions) and I noticed I'd filled the flyleafs with my 'favorite' Bible passages. That's how this book is - you read a verse and say 'Aha...so that's what that verse means.. I never thought of it in that light' and then you have to think about it for a time and let it sink in deep. It's a book (and a message) that will really satisfy the hungry heart.