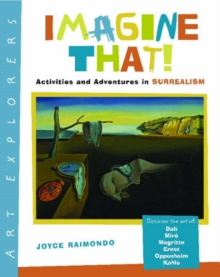 Description
The Art Explorer series of interactive art books offers a new approach to art!
Written by an expert in the field, it encourages kids to describe and interpret what they see in famous artworks, then to try some of the techniques themselves.
Imagine That! Activities and Adventures in Surrealism, the first book in this new series, draws children into the fantastic, imaginative world of surrealism, highlighting the work of six famous surrealist artists: Salvador Dali, Rene Magritte, Max Ernst, Joan Miro, Merit Oppenheim, and Frida Kahlo.
For each artist, a color reproduction of his or her famous artwork is paired with questions to get kids looking at the art and thinking about what they see.
A short paragraph explains how the work was made and the artist's intentions, and a brief bio gives children a peek at the person behind the art.
Easy-to-follow activities then provide hands-on experience with the artist's techniques, subject areas, and media, each illustrated with examples by actual kids.
Techniques include collage, watercolour painting, drip painting, drawing, frottage, watercolour resist painting, printmaking, sculpture, and more.
Free Home Delivery
on all orders
Pick up orders
from local bookshops