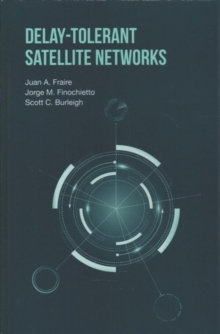 Delay-Tolerant Satellite Networks
Hardback
Description
Delay Tolerant Networks (DTNs) emerged as a novel architecture to address the challenges in end-to-end connectivity in unexplored networked satellite mission areas.
It started in the late 1990s as a discussion on how to extend the Internet into interplanetary space.
Objects in interplanetary space are so far apart that the fundamental assumptions underlying the internet architecture at the time wasn't adequate.
They needed a new networking paradigm that embraced delay and disruptions in such environments.
While the book focuses on satellites orbiting the earth, the concepts explored can be directly applied to satellites orbiting any planet, and in some cases adapted to space probes.
It specifically explores ways in which DTN might make terrestrial communication and observation via Earth-orbiting satellites less expensive and more robust.
As the DTNs took shape, it became apparent that the same challenges in architecture that would make communication delay-tolerant would also make communication disrupt-tolerant, and could be useful to solve communication problems on Earth as well.
The book reviews existing state-of-the-art on board and ground technology supporting satellite applications, such as communications protocols, algorithms and security procedures.
It also provides a unique analysis on the motivation of using Inter-Satellite links (ISL) to form networks on space in a disruptive environment and extensive modeling and analysis tools suitable for professionals and researchers in the field.
Information
Format: Hardback
Pages: 272 pages
Publisher: Artech House Publishers
Publication Date: 31/01/2018
Category: Energy technology & engineering
ISBN: 9781630813444
Free Home Delivery
on all orders
Pick up orders
from local bookshops