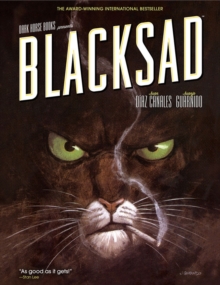 Information
Format: Hardback
Pages: 184 pages, 1 Illustrations, unspecified
Publisher: Dark Horse Comics,U.S.
Publication Date: 15/06/2010
Category: Comics and Graphic Novels
ISBN: 9781595823939
Other Formats
Hardback from £11.35
Paperback from £9.15
Free Home Delivery
on all orders
Pick up orders
from local bookshops
Reviews
Showing 1 - 5 of 17 reviews.
Previous | Next
Review by kristenn
16/06/2015
I'd been hearing good things about this series for a few years and the raves for the new Dark Horse edition were loud enough to get me off the fence.This is well-done classic noir. Convoluted without being unrealistic. A charismatic hero who doesn't win every fight and is consistently unlucky in love. Sultry dames. Blatant villains. They do skip the corrupt police department cliche, which is nice.The art is wonderfully atmospheric and does avoid the creepy 'furry' fetish angle that I was leery of. There is less sex/nudity than in your average human-based noir comic. The artist's Disney background is clear in his overall style and he put a lot of research into having each character express emotion in species-specific ways. He is inconsistent with the inclusion of tails and I had a lot of difficulty identifying the breed or even species of many female characters, although the males were always quite clear.Because the creators are European (Spanish, with a French publisher) I was disappointed that the stories are all set in a version of the United States. I was looking forward to more novelty. And the race wars story never really made sense in a world of so many different colors/species. It was the pure white animals vs only certain brown ones and the rest of the population -- green, orange, tan, blue, etc. -- was simply background. But that overall story was the strongest of the three despite that. Don't miss the monochrome splash page at the end.
Review by mikewick
16/06/2015
When purchasing for our library's GN collection a few months ago, I passed on "Blacksad" largely because of the cost--I could buy two TPB's that produce twice the circulation statistics of one artsy GN. Blacksad put that kind of thinking to shame and I promise I'll never fall prey to any kind of jackass cost-benefit analysis ever again. Juan Diaz Canales' story of a hard-boiled cat detective named Blacksad is some of the finest crime noir out there, and Juanjo Guarnido's art is absolutely jaw-dropping (is it wrong to get turned on by a nude, buxom anthropomorphic cat?). To make the review short, don't be a jackass like me and pass by this the first time, because you might not get a second chance.
Review by cindysprocket
16/06/2015
I am so glad that my library purchased this book. Did not see it at the brick and mortar book stores. At times I forgot that the characters were portrayed as animals. The stories all had a message.
Review by callmecayce
16/06/2015
I'd never heard of this until I saw a panel from the book on tumblr. It was so beautiful and intriguing that I had to find a copy and read it (luckily my library owns one). Canales' book is truly fantastic. Both the art and the stories are wonderful. But it's really the characters who make the stories believable. I was a big fan of the <i>Maus</i> books and wasn't sure how I was going to take these animals as humans in a different context. The content is very adult in some cases, but it worked so well that I almost forgot I was reading about animals and not humans (again, very much like <i>Maus</i>). I loved this book and wish they'd translate more of these into English.
Review by yeremenko
16/06/2015
Simply incredible art. Stories are familiar though.