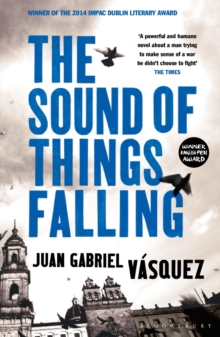 The Sound of Things Falling
Paperback
Description
Winner of the International IMPAC Dublin Literary Award 2014 Winner of the Alfaguara Prize 2011 Winner of the Gregor von Rezzori Prize 2013 No sooner does he get to know Ricardo Laverde in a seedy billiard hall in Bogota than Antonio Yammara realises that the ex-pilot has a secret.
Antonio's fascination with his new friend's life grows until the day Ricardo receives a mysterious, unmarked cassette.
Shortly afterwards, he is shot dead on a street corner.
Yammara's investigation into what happened leads back to the early 1960s, marijuana smuggling and a time before the cocaine trade trapped Colombia in a living nightmare.
Information
Format: Paperback
Pages: 320 pages
Publisher: Bloomsbury Publishing PLC
Publication Date: 12/09/2013
ISBN: 9781408831618
Free Home Delivery
on all orders
Pick up orders
from local bookshops
Reviews
Showing 1 - 1 of 1 reviews.
Review by baswood
16/06/2015
Bogota, Columbia and I immediately think of Bobby Moore and that Bracelet. In May 1970 the English World Cup team captained by Bobby Moore were in Columbia as part of their final preparations for the 1970 World Cup that was held in Mexico City. Moore was accused of stealing a bracelet in a jewellers shop situated in the teams hotel. He was held in custody for four days pending an investigation. There was an outcry in England with the British Prime Minister Harold Wilson becoming involved and the consensus of opinion was that Moore had been framed, because Bogota was the kind of place where things like that happened all the time.Things got much worse for the inhabitants of Bogota in the 1980's when the drug cartels declared war on each other and the authorities. It became one of the most dangerous cities in the world, with many people affected by, or knowing someone who was affected by the violence and this is the real subject of Vasquez novel. Antonio Yammara; a lawyer befriends the mysterious Ricardo Laverde in the billiard hall that he frequents after work. Laverde it soon becomes clear has a past and has recently been released from jail. He is assassinated while walking along the street with Antonio who is also hit by one of the bullets and physically does well to recover, however the mental scars run far deeper and it brings back to him the terrors of the 1980's. In a city where there are so many unsolved murders, Antonio shakily tries to find out more about his murdered friend, it becomes essential for him to find some answers so that he can come to terms with his own wounding. The novel is built around the central mystery of what happened to Laverde, but as stories go, it is not much of a mystery. Vasquez's fictional central characters are woven into the history of Columbia from the 1930's to the present date. There is a reconstruction of Captain Abadia's flying accident that killed 50 people at an air show watched by the President, back in the 1930's and the trauma that Antonio's grandfather never recovered from. There is the example of the bomb placed on an aircraft that was supposed to be carrying Cesar Gaviria in an effort to stop him becoming President (he was not on the plane, but the bomb exploded killing everybody on board); Pablo Escobar leader of the Medellin Cartel was deemed responsible and became public enemy number one of the USA. Antonio remembers visiting Escobar's famous zoo when he was at the height of his power, but he had to keep his visit secret from his family and later in the story he revisits the zoo six years after Escobar's death. Vasquez creates a vibrant scenario by linking his mystery so closely with actual events, so closely that they appear like reportage in some instances. Bogota is 2,600 metres above sea level, it is often under overcast skies heavy with mist and rain, cold and gun metal grey. This is in striking contrast to Antonio's journey into the more tropical areas, but Vasquez is good at painting for us his pictures and loading them with atmosphere, because he knows the country that he describes so well.It is a book that sucks you in to it's milieu: the corruption, the violence that can change lives so drastically, and the oppressive landscape, so that it is almost a relief to set the book down and carry on with your normal life (assuming that you are not living in a city that has the problems of Bogota). The mystery story is adequate in enabling Vasquez to create a scenario in which he can explore the traumas of injustice, fear and violent deaths on a population that has no way of changing the way they live. It is well written and has passages of imagination and insight, but those seeking a fast paced high adventure mystery story may be disappointed. I certainly know more about Columbia, now that I have read the book and can understand a little of what it must be like to live and work in an environment that never feels very safe. This novel has much going for it and so 4 stars.