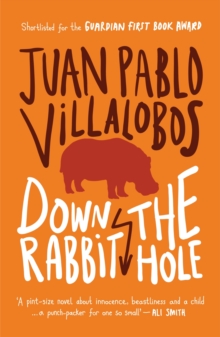 Down the Rabbit Hole
Paperback
Description
Tochtli lives in a palace. He loves hats, samurai, guillotines and dictionaries, and what he wants more than anything right now is a new pet for his private zoo: a pygmy hippopotamus from Liberia.
But Tochtli is a child whose father is a drug baron on the verge of taking over a cartel, and Tochtli is growing up in a luxury hideout that he shares with hit men, dealers, and the odd corrupt politician or two.
Down the Rabbit Hole, a masterful and darkly-comic first novel, is the chronicle of a delirious journey to grant a child's wish.
Information
Format: Paperback
Pages: 130 pages
Publisher: And Other Stories
Publication Date: 01/09/2011
ISBN: 9781908276001
Other Formats
Paperback from £5.65
EPUB from £5.60
Free Home Delivery
on all orders
Pick up orders
from local bookshops
Reviews
Showing 1 - 4 of 4 reviews.
Review by kidzdoc
16/06/2015
This novella, which was longlisted for this year's Guardian First Book Award, is narrated by Tochtli, an 8 year old boy whose father Yolcaut is a ruthless Mexican drug lord who resides in a heavily guarded mountain hideout. The boy is similarly isolated, as he does not know his mother and has only met a dozen or so people, nearly all of whom work for or with his father. Other than his father, his closest companions are his teacher, Mazatzin, who provides an alternative view of manhood and morality to his paranoid and ruthless father, and the books that keep him occupied and supplement his advanced vocabulary.The hideout is filled with exotic animals, but Tochtli wants a pygmy hippopotamus from Liberia more than anything else in the world. Yolcaut eventually gives in to his son's demands, and he takes Tochtli to Monrovia, along with his teacher, where they assume false identities and employ a local guide to hunt down the elusive and rare animal.<i>Down the Rabbit Hole</i> was a mildly interesting read, which held my interest for its 70 pages, but would have been overly tiresome and repetitive had it been much longer, primarily due to Tochtli's repeated use of vocabulary words such as <i>sordid</i>, <i>disastrous</i> and <i>pathetic</i>. This book isn't worth anything close to the £10 I spent on it, so I'd recommend borrowing it if you want to read it.
Review by Beamis12
16/06/2015
I usually don't rate short novellas 4 stars, but this is so cleverly done and the language so matter of fact yet poignant all the same. A young boy whose father is a drug lord is the narrator of this book, and the way he accepts all facets of his strange life is at time humorous and at time appalling. He talks of corpses, guns, bullets, gangs, cocaine and all the things he sees living with his father. It is rather fascinating, a mix of precociousness and naivete. Yet the boy has stomach troubles which the doctor thinks is psychosomatic so obviously the boy does feel stress from his strange existence, though I am not sure that he considers it strange since he has known no other life. Anyway this is the first short novel that I actually consider rather complete.
Review by Citizenjoyce
16/06/2015
There's no way I could believe that the narrator of this book was a 7 year old boy, even a precocious one. He could be a genius, which could as well be born to a Mexican drug lord as to anyone else, but still, beyond credulity. However the way Villalobos talks about morality through this boy's eyes is genius. Since his father is so very rich the boy lives in a secluded palace where he knows only about 14 people - not counting corpses, which he doesn't think he should count. Little Tochtli (Rabbit) knows lots about corpses since they seem to be one of his father's most important products. In fact he and his father play a little verbal game about how many bullets and where should they be placed in order to make a corpse. Being macho is the number one value of Tochtli and his father's little gang, the opposite of which is to be a faggot who cries when he is made into a corpse. Tochtli tries very hard not to be a faggot and usually succeeds. Tochtli's father, the king, doesn't discipline him but rather buys him presents to persuade correct behavior. The next present Tochtli wants is a Liberian pygmy hippopotamus, and he absolutely thinks he can acquire this prize. The essence of <i>Down the Rabbit Hole</i> is the learning of morality, and this is expressed both lightly and with gut wrenching force. I've always said that you should teach your children about sex from the earliest age possible because their minds are open and they can accept all ideas without horror, shame or disgust if presented properly. Tochtli accepts his lessons in macho consciously, but, the book wonders, is there a part of humanity that has empathy - that rejects the idea of casual murder or than cannot accept such ideas without harm to the person? This book is a very quick read with very deep impact.
Review by Samchan
16/06/2015
I loved this novella so, so much, and fought the urge to re-read it as soon as I finished (because I had too many other books to complete). The narrative, as channeled through the young son of a drug baron who's cooped up in a large mansion in Mexico, is playful and chuckle-inducing. I'm pretty amazed that this voice—childish, precocious, inadvertently funny—came through so well in the translation from Spanish, so kudos to the translator. This young boy loves to collect hats, uses big words he gets from the dictionary (endearingly and incorrectly), and longs for a Liberian pygmy hippopotamus to add to his collection of animals--in a world that's feels quirky, surreal,and menacing. On the edges of his matter-of-fact narration on things like whether, among his handful of acquaintances, he can count the ones that died; the macabre game he plays with his dad in guessing how many bullets it takes to kill people; and news accounts of severed heads and body parts, we see glimpses of the Mexican drug war playing out in a landscape that's corrupt and violent. While it seems like this is the only world that the isolated boy knows, he seems also to sense that something is not quite right, and this makes the story all the more heartbreaking. <br/><br/>I always find it harder to write a review of the books that I'm so enamored with—it just feels like I'd never be able to truly capture how tremendous the book is and why it struck a chord. And this is the case with Down the Rabbit Hole. I'm eagerly awaiting Villalobos' next work.<br/>
Also by Juan Pablo Villalobos | View all