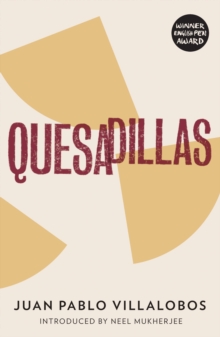 Description
Anarchy in Mexico - a comic novel about screwed-up families and politics from the author of Down the Rabbit HoleVillalobos' first novel, Down the Rabbit Hole, was shortlisted for the Guardian First Book Award 2011 and the Oxford-Weidenfeld Translation Prize 2012It's the 1980s in Lagos de Moreno - a town where there are more cows than people, and more priests than cows - and a poor family is struggling to get by.
The father, a school teacher, insists on practising and teaching the art of the insult, while the mother prepares hundreds of quesadillas to serve to their numerous progeny: Aristotle, Orestes, Archilochus, Callimachus, Electra, Castor and Pollux.
The family witnesses a revolt against the Institutional Revolutionary Party and its umpteenth electoral fraud.
This political upheaval is only the beginning of Orestes' adventures and his uproarious crusade against the boredom of rustic life and the tyranny of his older brother.In Quesadillas Juan Pablo Villalobos serves up a wild banquet.
Chock-full of inseminated cows, Polish immigrants, parading pilgrims, alien spacecraft and psychedelic watermelons, almost anything goes in this madcap Mexican satire of politics and class.Orestes meets a procession of pilgrims, a stoner uncle called Pink Floyd and a beguiling politician who teaches him how to lie, and he learns some valuable lessons about families, truth and bovine artificial insemination. With Quesadillas, Juan Pablo Villalobos serves up a wild banquet.
Anything goes in this madcap Mexican satire about politics, big families, and what it means to be middle class.
Information
Format: Paperback
Publisher: And Other Stories
Publication Date: 01/09/2013
ISBN: 9781908276223
Other Formats
Paperback from £6.19
EPUB from £5.60
Free Home Delivery
on all orders
Pick up orders
from local bookshops
Also by Juan Pablo Villalobos | View all