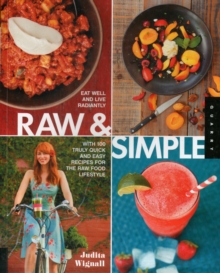 Raw and Simple : Eat Well and Live Radiantly with 100 Truly Quick and Easy Recipes for the Raw Food Lifestyle
Paperback
Description
Find Your Balance. Simply. Fresh, raw foods can nourish your body, calm your cravings, and energize you. And with raw food chef Judita Wignall's Raw & Simple, it's never been simpler to eat and live better.
It's healthy, fun...and easy. Inside you'll find: * No dehydrator necessary! Basic preparation techniques with easy-to-find ingredients *100 delicious, simple recipes for breakfasts, soups, sides, starters, salads, main courses, snacks, and desserts * Easy fermented recipes to help improve your digestion and strengthen your immune system * No processed foods, trans fats, refined sugars, artificial flavorings and colorings, or preservatives-just real, wholesome foods, made simple * All gluten-free recipes, with plenty of low-sugar options * The nutritional benefits to keeping foods as close to their natural state as possible * How to get all of your essential nutrients from a raw diet * Tips and tricks for stocking your kitchen and living the raw lifestyle * Lifestyle and weight loss strategies to help you achieve vibrant health Making smart, delicious food choices in a short amount of time is now easier than ever.
Raw and Simple provides easy (and incredibly tasty!) recipes that will feed your body and spirit without requiring hours of prep work. Recipes include: * Oatmeal Walnut Raisin Cookies * Apple Pie Smoothie * Winterland Salad * Cucumber Basil Soup * Creamy Kale Salad with Capers and Hazelnuts * Maple-Dijon Brussels Sprouts * Thai Veggie Noodles * Root Vegetable Slaw * Cherry-Hemp Muesli * Watermelon-Fennel-Mint Chiller * Strawberry Spinach Salad with Sweet Balsamic Vinaigrette * Colorful Cabbage Salad * Cauliflower Couscous * Carrot-Ginger Coconut Soup * Orange-Cranberry-Apple Relish * Herbed Pecan Pate * Orange-Almond Truffles Raw food chef and instructor Judita Wignall fully integrates her raw food platform with holistic health and wellness.
It's not just about food-it's about feeding your whole body and fueling your life!
Information
Format: Paperback
Pages: 176 pages
Publisher: Quarry Books
Publication Date: 09/01/2013
Category: Health & wholefood cookery
ISBN: 9781592538201
Free Home Delivery
on all orders
Pick up orders
from local bookshops
Reviews
Showing 1 - 1 of 1 reviews.
Review by MrsLee
16/06/2015
I am a total novice when it comes to raw food and the theories of such. I bought this cookbook because I was so tired of cooking in the summer heat and wanted some fresh ideas. Although I found her introduction to be interesting, she quotes "studies" wildly, without references to such studies as far as I can tell. Many seem like unfounded theories at best. Still, they make her feel good, and that is fine. The idea of getting sunlight vitamin D and grounding oneself by walking barefoot on the earth is appealing and if you feel better doing it, who is to say it isn't healing as well? As for many of the other claims, well, I have a certain span of life to live on this earth. I'm trying not to stress out about it too much (that's good for me, right?). So, I will pick and choose lightly from this book which ideas to follow and which to let go for now. So far, I manage two raw meals a day and one simple and clean cooked meal with animal protein. This suits my summer mood, but may not work for me in the winter. I intend to try making Kefir water because it sounds interesting and like a possible substitute for sweet drinks which don't appeal to me. I also like the sound of nut cheese and want to try making that. Her smoothie and soup recipes are inspiring. Wignall makes it clear that substitutions are a good thing and to be encouraged, that is my kind of cooking. I am not interested in pretend recipes for pasta, muffins, ice cream or cake, but some people may enjoy those.I did find what I was looking for in this book. Fresh ideas for simple foods which are good and good for me. I will have to look for it in the paper version however, because trying to use a cookbook on Kindle is unwieldy and useless.
Also by Judita Wignall