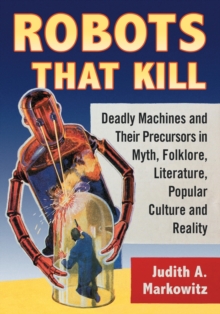 Robots That Kill : Deadly Machines and Their Precursors in Myth, Folklore, Literature, Popular Culture and Reality
Paperback / softback
Description
This book describes the technologies that enable real-world robots and drones to be effective killers, including an overview of how artificial intelligence and nanotechnology relate to the topic.
It also examines social controversies swirling around the design and use of killer robots, such as whether fully-autonomous, robotic weapons should be banned. Although robots are a modern invention, examples of robot precursors date back to ancient times.
This book identifies and examines the monsters, artificial beings, and fictional machines that are precursors of real 21st century killer robots and drones.
Examples of precursors include the golem, Frankenstein's monster, and the ethical robots of Isaac Asimov.
Information
Format: Paperback / softback
Pages: 131 pages
Publisher: McFarland & Co Inc
Publication Date: 30/05/2019
Category: Literature: history & criticism
ISBN: 9781476668130
Also by Judith A. Markowitz