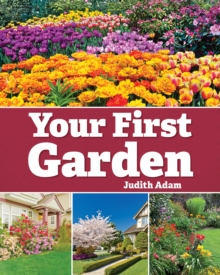 Your First Garden
Paperback
Description
In her latest book, accomplished garden writer Judith Adam targets new homeowners in the brand new, still-to-be landscaped suburbs.
Creating an attractive setting for a brand-new house is a high priority and hard to resist, as all improvements will add to the property's resale value as well as the enjoyment of the new home.
With a light hand Judith Adam outlines the basic steps toward transforming an empty yard into a welcoming, appealing space, beginning with identifying a personal garden style and assessing the pros and cons of a site, then choosing, planting and maintaining plants.
Your First Garden is a primer on the basic elements of landscape design and garden creation: planning for scale and balance, colour selection, and architectural features are all landscape elements that homeowners must understand.
With a plan in hand the owner can then visit a garden centre using the expert advice on how to evaluate healthy plants.
To help with plant selection there is a valuable annotated lists of annuals, perennials and shrubs for building a garden that blooms all season. Chapters include information on: * How property improvements build value into your new purchase; * Tips on budgeting garden improvements over several seasons; * Scale and balance in the garden; * Planting style and succession planting; * A landscaping plan checklist; * Evaluating soil with a tip sheet explaining soil chemistry and pH; * The science and art of fertilization, including organic humus; * The 10 critical gardening tools; * How to create garden beds from nothing; * Calculating soil and mulch quantities; * Planting suggestions for foundation, perennial and shrub beds; * Getting the best performance out of your plants with the least amount of work; * Best practices for planting perennials, annuals, shrubs and trees; * Tips on pruning and weeding.
Your First Garden is an essential reference, a highly readable road map for new homeowners and neophyte gardeners.
Praise for the author's Landscape Planning: Practical Techniques for the Home Gardener: 'The book certainly lives up to its title: the author gives very wise advice on an impressive variety of garden topics that are rarely considered in such manuals. Handsomely illustrated, it is highly recommended as one of the most comprehensive, up-to-date works on general gardening' - Botanic Garden. 'This book is worth its weight in gold' The Globe and Mail.
Information
Format: Paperback
Pages: 128 pages, Full colour photos throughout
Publisher: Firefly Books Ltd
Publication Date: 01/04/2016
Category: Garden design & planning
ISBN: 9781770857087
Free Home Delivery
on all orders
Pick up orders
from local bookshops