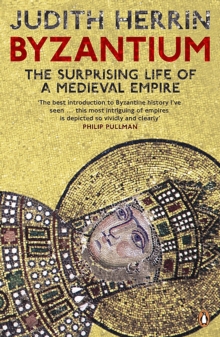 Byzantium : The Surprising Life of a Medieval Empire
Paperback
Description
For a thousand years an extraordinary empire made possible Europe's transition to the modern world: Byzantium.
An audacious and resilient but now little known society, it combined orthodox Christianity with paganism, classical Greek learning with Roman power, to produce a great and creative civilization which for centuries held in check the armies of Islam.
Judith Herrin's concise and compelling book replaces the standard chronological approach of most histories of Byzantium.
Instead, each short chapter is focused on a theme, such as a building (the great church of Hagia Sophia), a clash over religion (iconoclasm), sex and power (the role of eunuchs), an outstanding Byzantine individual (the historian Anna Komnene), a symbol of civilization (the fork), a battle for territory (the crusades).
In this way she makes accessible and understandable the grand sweeps of Byzantine history, from the founding of its magnificent capital Constantinople (modern Istanbul) in 330, to its fall to the Ottoman Turks in 1453.
Information
Format: Paperback
Pages: 416 pages, 24pp colour inset
Publisher: Penguin Books Ltd
Publication Date: 03/04/2008
Category: General & world history
ISBN: 9780141031026
Free Home Delivery
on all orders
Pick up orders
from local bookshops
Reviews
Showing 1 - 3 of 3 reviews.
Review by the.ken.petersen
16/06/2015
I do not wish to cast aspersions upon your historical knowledge, but I have to concede that I have a few, never mind grey areas, positive black spots - areas in which my ignorance is even more overwhelming than usual. The time betwixt the Roman Empire and the Middle Ages, was a large gap. This book has filled it admirably. Were one to be a scholar, there is, undoubtedly, much more to be taken from this work than I did but, this illustrates the fact that it is written in style that is open to the Don and the dunce. Byzantium started out as the West Wing of the Roman Empire but then, split off into a semi autonomous empire. It acted as a buffer between Western Christianity and the new, all conquering Muslim faith; not just physically, but also as a repository of Western civilisation, at a time when the West was letting its standards slip, somewhat.The book traces Byzantium from its earliest days until it finally succumbed to Eastern military force (a situation helped by an attack from the Crusaders sent to help protect this Christian outpost!) Judith Herrin gives a biography of the main characters, historical background and a final review of the significance of Byzantium in a succinct style filling a mere 336 pages. I particularly like the way in which Herrin is willing to report the views of the time, without comment. I am thinking specifically of the sieges where Mary, the mother of Jesus, was 'seen' on the battlements at their darkest hour. We might be wiser than to believe such things nowadays (please notice that word 'Might') but, it gives an insight into the mind of the Byzantines at this juncture.The book is lavishly illustrated with examples of Byzantine art and gives an excellent introduction to this crucial historical empire.
Review by SChant
16/06/2015
Quite interesting but a bit too much christianity - pages and pages about who's allowed to say what in prayers, which churches have which icons, who's destroyed what books etc. I know that most of the written sources from the time must have been from christian monks but it coould have done with more about the lives of ordinary Byzantines.
Review by jcbrunner
16/06/2015
"Byzantium: the surprising life of a medieval empire" is a highly readable thematic history of the Byzantine empire which de-emphasizes the usual murder and betrayal stories around the emperors. The author presents the cultural and religious achievements of Byzantium of continuing and preserving the Roman civilization (in Greek clothes and language). The book's subtitle actually runs counter to its message: Instead of being a "medieval empire", Byzantium emerged from the Arab, Turkish and Bulgarian challenge as a medieval kingdom. Having been sacked by the Crusaders and Venice, it soldiered on for a few centuries more before it vanished into the pages of history.