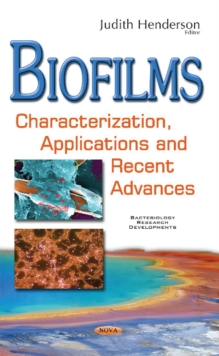 Biofilms : Characterization, Applications & Recent Advances
Hardback
Description
Microbial biofilms are populations of microorganisms that are found on solid-liquid interface and are typically surrounded by a matrix of extracellular polymeric substances (EPS).
The aggregates of cells not firmly attached to a surface are sometimes termed flocs and have the same characteristics as biofilms.
Bacteria in the biofilms produce an extracellular matrix and this contributes to ~90% of the biofilm biomass.
They are found in all environments such as marine, freshwater, industrial surfaces, domestic appliances exposed to tap water and wastewater, dental surfaces, medical implants etc.
This book discusses the characterization, applications and recent advances in the study of biofilms.
Information
Format: Hardback
Pages: 270 pages
Publisher: Nova Science Publishers Inc
Publication Date: 01/12/2016
Category: Biochemistry
ISBN: 9781536101386