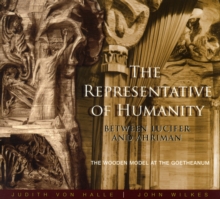 The Representative of Humanity : Between Lucifer and Ahriman - The Wooden Model at the Goetheanum
Paperback / softback
Description
In conceiving his architectural masterpiece - the Goetheanum in Dornach, Switzerland - Rudolf Steiner designed a large wooden model, featuring three main figures, to be placed in a central position inside the building.
Known as 'the Representative of Humanity', this sculpture shows a central, free-standing Christ holding a balance between the beings of Lucifer and Ahriman, who represent polar tendencies of expansion and contraction.
On New Year's Eve 1922 the Goetheanum was destroyed by fire, but the model - still in a process of creation and therefore housed in an external studio - miraculously escaped the flames.
It remains intact to this day in the second Goetheanum, where it can be viewed by the public. With numerous full colour photos and illustrations, The Representative of Humanity offers a vivid introduction to this monumental, world-historic artwork.
We follow the evolution of the statue through the photographic documentation of many models created in its development: from six smaller versions to a full-size plasticine construction. This latter model - also still on display - offers an impressive insight into the artists' detailed intentions, having been repeatedly revised by Rudolf Steiner.
It demonstrates the continual spiritual movement evident in the whole series of small models, and the metamorphic processes which developed over an eight-year period. The authors offer indications regarding the realm and content out of which the work arose, the environment in which it is situated, and the artists who created it: Rudolf Steiner and the trained sculptress Edith Maryon.
They also examine the intentions behind a work of art that addresses the destiny of the whole of mankind.
Information
Format: Paperback / softback
Pages: 96 pages, FULL COLOUR THROUGHOUT
Publisher: Rudolf Steiner Press
Publication Date: 15/10/2010
Category: Sculpture
ISBN: 9781855842397
Free Home Delivery
on all orders
Pick up orders
from local bookshops