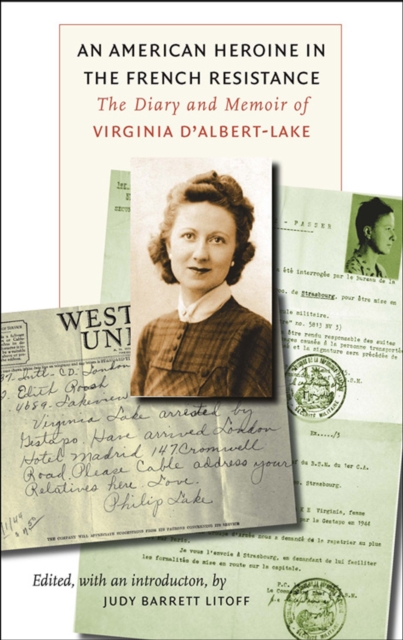 An American Heroine in the French Resistance : The Diary and Memoir of Virginia D'Albert-Lake
Paperback / softback
Description
This fascinating book tells the remarkable story of an ordinary American woman's heroism in the French Resistance.
Virginia Roush fell in love with Philippe d'Albert-Lake during a visit to France in 1936; they married soon after.
In 1943, they both joined the Resistance, where Virginia put her life in jeopardy as she sheltered downed airmen and later survived a Nazi prison camp.
After the war, she stayed in France with Philippe, and was awarded the Legion d'Honneur and the Medal of Honor.
She died in 1997. Judy Barrett Litoff brings together two rare documents-Virginia's diary of wartime France until her capture in 1944 and her prison memoir written immediately after the war.
Masterfully edited, they convey the compassion and toughness of a nearly forgotten heroine as they provide an invaluable record of the workings of the Resistance by one of the very few American women who participated in it. "An indelible portrait of extraordinary strength of character . . . [D'Albert-Lake] is sombre, reflective, and attentive to every detail."-The New Yorker "A sharply etched and moving story of love, companionship, commitment, and sacrifice. . . . This beautifully edited diary and memoir throw an original light on the French Resistance."-Robert Gildea, author of Marianne in Chains: In Search of the German Occupation, 1940-1945 "At once a stunning self-portrait and dramatic narrative of a valorous young American woman . . . an exciting and gripping story, one of the best of the many wartime tales." -Walter Cronkite"An enthralling tale which brims with brave airmen and plucky heroines."-David Kirby, St.
Petersburg Times
Information
Format:Paperback / softback
Pages:322 pages
Publisher:Fordham University Press
Publication Date:14/03/2008
Category:
ISBN:9780823225828
Information
Format:Paperback / softback
Pages:322 pages
Publisher:Fordham University Press
Publication Date:14/03/2008
Category:
ISBN:9780823225828