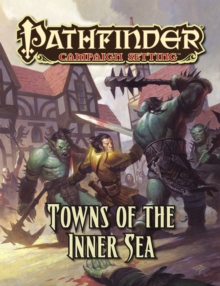 Pathfinder Campaign Setting: Towns of the Inner Sea
Paperback / softback
Description
Whetherthey're thestarting points of incredible campaigns, communities facing unfathomabledangers, or merely places for adventurers to rest and resupply, vibrantlydetailed towns are vital to any fantasyadventure. Towns of the Inner Sea explores sixsmall but richly detailed settlements from the Pathfinder campaign setting.
Eachentry provides insights into thetown's history,culture, and residents, as well as what dangers lurk in the shadows.
Numerousadventure hooks, full-page maps, and stat blocks for key NPCs make these townsfully realized settings, ready for Game Masters to drop into campaigns wheneverthey'reneeded. This book contain details on thefollowing distinctive towns: Diobel: Whatyou can't get inAbsalom, you can get in this notorioussmuggler's port. Falcon'sHollow: Were monsters and curses not enough, the ambitions of thistown's greedyoverseers would still trap its residents in mud and sawdust. Ilsurian: Torn between rival city-states,this Varisian town bows to nomaster. Pezzak: This sheltered port defiesthe rulers of the devil-dominated nation of Cheliax, its rebel spirit burningstrong despite its scheming overlords. Solku: This pious fortress-town facesconstant threats from nearby gnoll tribes, and while its walls stand unbreached,none can say for how much longer. Trunau:Trapped on the wrong side of the border with the orcs of Belkzen, the citizensof this stronghold stand fast againstsavagery. Towns of the Inner Sea is intendedfor use with the Pathfinder Roleplaying Game and the Pathfinder campaignsetting, but can easily be used in any fantasy game.
Information
Format: Paperback / softback
Pages: 64 pages
Publisher: Paizo Publishing, LLC
Publication Date: 12/11/2013
Category: Indoor games
ISBN: 9781601255761
Free Home Delivery
on all orders
Pick up orders
from local bookshops
Also by Judy Bauer