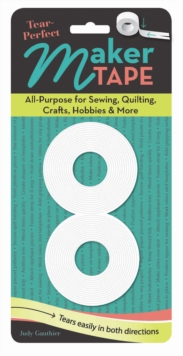 Tear-Perfect Maker Tape : All-Purpose for Sewing, Quilting, Crafts, Hobbies & More
Other merchandise
Description
You won't believe how much you can do with this all-purpose tape!
Tear-Perfect Maker Tape is gridded so that it tears easily and perfectly in either direction, providing you with just the right amount each time for whatever project you're working on.
Each package includes two 1" x 10 yard rolls for all your taping needs.
Makers of all sorts will love it for identifying project pieces; holding zippers and embellishments in place for sewing; making templates and rulers non-skid; repairing paper patterns; marking buttonholes; holding glued objects together while they dry; making quick fixes; creating a gripping surface on slippery handles; and anything else you can imagine!
Free Home Delivery
on all orders
Pick up orders
from local bookshops