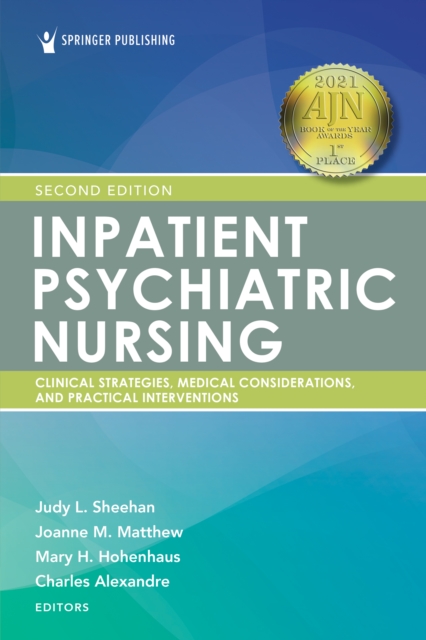 Inpatient Psychiatric Nursing : Clinical Strategies, Medical Considerations, and Practical Interventions
Description
First edition named a Doody's Core Title and winner of an AJN Book of the Year Award!Psychiatric nursing practice has changed dramatically to accommodate increasing patient acuity and an evolving healthcare landscape.
In addition, the inter-relationship of medical illness and psychiatric symptoms can make treatment and care challenging for nurses regardless of where they practice.
Inpatient Psychiatric Nursing: Clinical Strategies, Medical Considerations, and Practical Interventions reflects these factors by focusing on four particularly challenging aspects: keeping the patient safe, stabilizing symptoms, promoting engagement in treatment, and discharge planning.
In a systematic, easy-to-access format, it offers evidence-based interventions and concrete strategies that can be used alleviate patient distress and effectively deliver care. This expanded and updated second edition is organized according to patient behaviors and interventions that nurses can employ to manage those behaviors.
Each behavioral-focused chapter follows a consistent format so that readers can easily locate key information at point of care and concludes with a quick-reference table that summarizes goals, patient assessment, maintenance of safety, appropriate interventions, and next steps.
The book also addresses a variety of medical conditions that may be complicated by psychiatric illness or have symptoms that may be erroneously attributed to mental illness.
This symptomatic approach provides guidance for nurses and other healthcare professionals working with patients with behavioral disturbances-regardless of the cause or the practice setting. New to This Edition:Expanded coverage of the inter-relationship of medical illness and psychiatric symptomsExpanded coverage on the management of barriers to being therapeuticNew chapter on key medical considerations for the psychiatric patientKey Features:Provides evidence-based interventions designed to modify and manage challenging and disruptive patient behavior in all practice settingsAddresses psychiatric issues in medical settings and medical issues in psychiatric settingsFeatures quick-reference tables that summarize goals, patient assessment, maintenance of safety, appropriate interventions, and next stepsDemonstrates application to practice with real-life scenariosPurchase includes access to the eBook for use on most mobile devices or computers
Information
Format:
Pages:420 pages
Publisher:Springer Publishing Co Inc
Publication Date:30/06/2021
Category:
ISBN:9780826135438
Information
Format:
Pages:420 pages
Publisher:Springer Publishing Co Inc
Publication Date:30/06/2021
Category:
ISBN:9780826135438