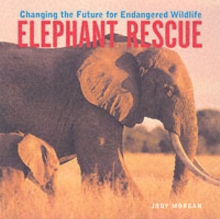 Elephant Rescue : Changing the Future for Endangered Wildlife
Paperback / softback
Description
In 1979, the African elephant population was 1.3 million.
By 1989 that total dropped dramatically to 609,000. During the 1980s, poachers killed some three hundred elephants a day.
Although active measures were soon enforced to protect African and Asian elephant populations, the elephant's future is still uncertain.
This book traces the efforts of individuals and organisations that confront the international ivory trade and lobby indigenous governments to create protective environments.
It also covers: - How elephants live - Ways elephants protect their families - Elephants' astonishingly intricate behaviour - Physiology, life span, diet and more - Firefly Animal Rescue - is a new series of books about endangered and threatened species and what is being done to protect them.
It is aimed at readers aged 10 and up with accessible text and colour photographs.
Each book introduces readers to a featured animal, explains the threats it is facing, and explores efforts to protect it.
Young readers will be inspired by the leading scientists and conservationists who work in the field, in labs and on the public stage.
The books conclude with additional resources for those who want to help.
Free Home Delivery
on all orders
Pick up orders
from local bookshops