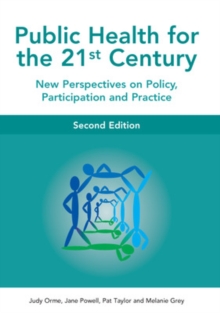 Public Health For The 21st Century
Paperback / softback
Description
"Public Health for the 21st Century is a comprehensive consideration of the emerging challenges for public health policy makers.
Its structure makes it accessible to those wishing to dip into specific areas as well as being both coherent and comprehensible to those who may wish to read the whole volume.
It is a valuable addition to any public health library."Journal of Environmental Health Research"This is a timely and comprehensive review of the new public health.
The book demonstrates a capacity and readiness of the public health community to engage the population to achieve the 'fully engaged scenario' that remains the major health challenge for the UK.
Replacing 'political restlessness' with political resolve might be the key ingredient that has been missing."Tribune "The second edition of this text is a very welcome addition to the public health library. The sweep of its interests and the vision it encapsulates marks it out as a true standard bearer for public health into the 21st Century. Its approach is comprehensive and its subject matter compelling. In spite of the challenges ahead for public health, the book reminds us of the quality of those practicing and writing about the subject in the UK today." Mike Kelly, Director of the Centre for Public Health Excellence, The National Institute for Health and Clinical Excellence (NICE)This bestselling book has been substantially updated to take account of changing policy and practice.
The introduction has been re-written to form a new chapter giving a comprehensive overview of the field of public health, making the book much more accessible to a wider audience.
Throughout this book, the authors analyse and reflect upon the influence of history, research and procedures upon contemporary public health practice.
The text explores the debates surrounding the meaning of public health and looks at the policy changes that are reshaping its context.
Also examined are the contributions that epidemiology and health economics make to public health.
Public Health for the 21st Century is essential reading for those involved in developing and implementing policies for health improvement, health protection and the reduction of inequalities in health.
It also appeals to a wider audience of professionals, lay people and students who are interested in the wider health and well being of their communities.
Information
Format: Paperback / softback
Pages: 242 pages
Publisher: Open University Press
Publication Date: 01/02/2007
Category: Health systems & services
ISBN: 9780335222070
Also by Judy Orme