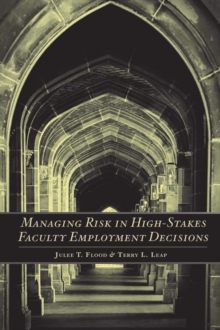 Managing Risk in High-Stakes Faculty Employment Decisions
Paperback / softback
Description
Understanding the risks involved in hiring new faculty is becoming increasingly important.
In Managing Risk in High-Stakes Faculty Employment Decisions Julee T.
Flood and Terry Leap critically examine the landscape of US institutions of higher learning and the legal and human resource management practices pertinent to college and university faculty members.
To help minimize the potential pitfalls in the hiring and promotion processes, Flood and Leap suggest ways that risk management principles can be applied within the unique culture of academia. Claims of workplace harassment and discrimination, violation of free speech and other First Amendment rights, social movements decrying unequal hiring practices, and the growing number of non-tenure track and adjunct faculty, require those involved in hiring and promotion decisions to be more knowledgeable about contract law, best practices in hiring, and risk management, yet many newly appointed administrators are often not sufficiently trained in these matters or in understanding how they might be applied in an academic setting.
Human resource departments, hiring committees, department chairs, and academics seeking faculty jobs need resources such as Managing Risk in High-Stakes Faculty Employment Decisions now more than ever. Outlines critical issues affecting U.S. higher education Analyzes the social and psychological biases that can arise during hiring, promotion, and tenure decisions Discusses contract and constitutional law from the perspective of institutions of higher learning Illustrates complex interactions that shape contractual, constitutional, and collegial issues in institutions of higher learning Examines contract rights and controversies for tenured and tenure-track faculty Describes how risk management processes can help to deal with these complicated, but critical, issues Addresses constitutional issues associated with academic freedom and free speech on campus Investigates the nebulous, but important, issue of collegiality Discusses the future for institutions of higher learning in hiring faculty
Other Formats
PDF from £14.39
EPUB from £14.39
Free Home Delivery
on all orders
Pick up orders
from local bookshops