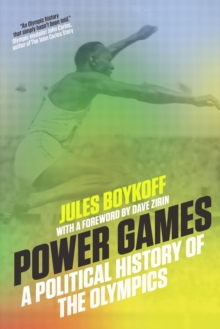 Power Games : A Political History of the Olympics
Paperback / softback
Description
The Olympics have not always been the commercialised juggernaut we know today, but as Jules Boykoff makes clear in this story-filled and devastating history, the Games have since their inception had a thoroughly checkered political history.
Pierre de Coubertin, the aristocrat who gave birth to the modern Olympics, was against allowing women to participate, and allowed African countries to participate only to offset their "individual laziness".
Boykoff, a former member of the US Olympic soccer team, takes readers from the nineteenth-century origins of the modern Games, through its flirtations with Fascism, and into the contemporary era of corrupt, corporate control.
Along the way he recounts vibrant alt-Olympics movements, like the Workers' games and Women's Games of the 1920s and 1930s to the Gay Games of the 1980s through today.
Information
Format: Paperback / softback
Pages: 216 pages, illustrations
Publisher: Verso Books
Publication Date: 27/04/2016
Category: Olympic games
ISBN: 9781784780722