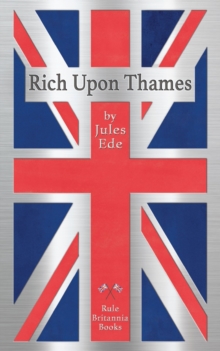 Rich Upon Thames
Hardback
Description
"Although it's really nice to meet you both, Mother andFather have asked us not to spend too much time socialising with you. They said they've spent a lot of money on our privateeducation and do not want to risk having our consonants being corrupted norhaving our vowels becoming contaminated. I hope you'll understand . . ." Rich Upon Thames, Jules Ede'ssecond Adult Humour book, takes us on a satirical journey, as we view aspectrum of residents ranging from `comfortably off' to `extremely wealthy',who have migrated to the respectable and genteel Victorian hamlets and boroughsalong the banks of South West London's River Thames.
It draws on situations theauthor has observed, from conversations overheard, and situations experiencedwhilst residing with his wife and children in one of South West London's moredesirable and cosmopolitan locations. Althoughfollowing in a similar vein as the popular Adult Ladybird books, this book isunique in its choice of subject.
Although we may view this prosperous specieswith a degree of amusement, and perhaps even a minority, with condescension,the author would not be surprised if we might subconsciously be harbouring afew molecules of envy. The 25original illustrations, by Yorkshire artist, Jane Peryer,accurately reflect these honed narratives and portray the incisive humourevident in each.
You may even recognise certain individuals who have theirequivalents residing in your own local neighbourhoods...
Information
Format: Hardback
Pages: 56 pages
Publisher: Troubador Publishing
Publication Date: 16/08/2018
ISBN: 9781789014044
Free Home Delivery
on all orders
Pick up orders
from local bookshops