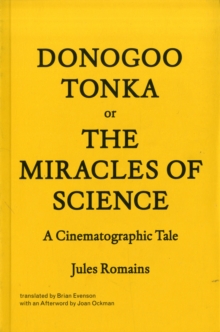 Donogoo Tonka or the Miracles of Science
Paperback / softback
Description
Donogoo-Tonka or the Miracles of Science is a satirical, parable like novel (or "cinematic novel" as referred to by author) published in 1920 by an important French modernist figure, Jules Romains.
It has never been translated into English. The story begins with a famous geographer facing the embarrassment of being denied membership in the Academy of Sciences after it is discovered that his best known work contains a map of South America showing a city named Donogoo-Tonka (allegedly full of gold) that does not exist.
In a series of pseudoscientific accidents, a previously suicidal man rediscovers happiness and self worth by helping the geographer regain his name (using false photography sets and manipulated publicity) and inadvertently helps establish a city of that name, which becomes a successful, thriving metropolis.
The hilarious novel ends with the establishment in Donogoo-Tonka of an official cult of scientific error, to which the city owes its existence, and the erection of an honorary statue.
The tale contemplates the meaning of the city and its origins.
The book is simultaneously oblique and central to the FORuM Project. In January 1930 the literary theorist and critic Victor Shklovsky published an article in the Moscow Literary Gazette entitled "A Monument to Scientific Error." The title refers to Romains s novel, which had been translated into Russian. "A Monument to Scientific Error" is a defense of artistic freedom and a subtle act of defiance.
The screenplay was made into a film in 1936 (in German) by director Reinhold Schunzel and was performed on stage numerous times in the '20s and '30s.
The images in the book are of various translations and some images from the theatrical production; there is an image that is a portrait of the author by a photographer Carl Van Vechten.
The book includes an afterword by Joan Oakman.
Information
Format: Paperback / softback
Pages: 136 pages
Publisher: Princeton Architectural Press
Publication Date: 01/11/2012
Category: Classic fiction (pre c 1945)
ISBN: 9781616891077
Free Home Delivery
on all orders
Pick up orders
from local bookshops