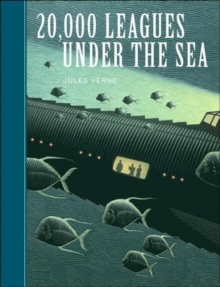 Classic Starts� Audio: 20,000 Leagues Under the Sea
Hardback
Description
Originally published in 1870, this amazing undersea adventure is one of the earliest science fiction novels ever written.
Jules Verne invites readers to go below the ocean's waves in the first-ever submarine with Captain Nemo and a range of fantastical sea creatures.
Each beautiful book is unabridged and features extraordinary art, a ribbon marker and the highest quality paper.
A series of insightful questions appear at the end of each volume to encourage discussion and a deeper understanding of these enduring works.
This voyage of exploration and the imagination retains a popularity that has spellbound generations of children.
Information
Format: Hardback
Pages: 336 pages, artwork photographs / illustrations throughout
Publisher: Sterling Juvenile
Publication Date: 01/10/2006
Category: Classic
ISBN: 9781402725999
Free Home Delivery
on all orders
Pick up orders
from local bookshops
Reviews
Showing 1 - 2 of 2 reviews.
Review by Ani_Na
16/06/2015
For reasons I cannot now comprehend, I checked this book out of my school library in second grade and read it all through class. Also for reasons I can't explain, I LOVED it. Which is why it has a five star rating, even though in all honest consideration it's probably not that great. I can't even be honest anymore; it's stuck to my memory like a twig between teeth, ever-present and slightly minty tasting. There are some very involved politics here, interesting from an anti-nuclear-war position. I was fascinated with the use of sea life for supplies as a child, and the imagined technology of the submarine has held up surprisingly well. If either of those things interest you, pick this book up. I'd also recommend it for anyone interested in older science-fiction, or for those reading through the Verne canon (of which I think this is the best). Otherwise, well, the five stars aren't as brilliant as they might appear.
Review by ZEEK319
16/06/2015
As much an underwater travelogue as it is a sci fi/steampunk classic, Jules Verne takes us around the world, thru the depths of the ocean with the enigmatic Captain Nemo at the helm. Narrated by a Professor Arronax, a French naturalist accidentally swept into the world of Captain Nemo, 20,000 Leagues Under The Sea is thought to be an allusion to Homer's Odyssey- and I suppose it is- but it's theme of one man's defiance of humanity, especially after being disappointed and devastated by it, is a theme repeated time and again throughout ALL literature and entertainment.The story begins with the Professor joining a hunting expedition for a large underwater creature menacing the ships traversing the waters of the world. After a brush with the strange sea creature sweeps Professor Arronax, his companion Conseil ,and the brutish Canadian whaler, Ned Land, overboard their ship, they find themselves unexpectedly rescued not by the large narwhale they were chasing, but rather a man-made creature instead- Captain Nemo's underwater ship, the Nautilus.Unsure of their three new companions, Nemo keeps them imprisoned till he decides what to do with them, but when he finds at least one of the ragged men to be a man of thinking, he decides to let them have free roam of the ship- with a couple conditions: They must go back to their rooms when asked- with no questions asked by them- and they must never leave the Nautilus.Ned Land, a lover of freedom, is furious and Professor Arronax is worried as well, but quickly finds himself enraptured with the amazing sights to behold and the chance to be the first to catalog them!Soon months fly by with Ned getting more restless and approaching an inevitable crisis point, although just as caught up in the new adventures around them.Hunting in underwater "forests", amazing underwater creatures never seen before, underwater volcanoes, caves and hidden channels, along with natural terrors like hurricanes, icebergs, and a spot aptly named the navel of ocean- all of this to be borne until the Nautilus's fierce implacable captain reveals his heart of vengeance in an all out battle with another ship.When confronted with the true nature of Nemo, that archangel of hate as Professor Arronax calls him, the professor agrees it's time to leave and they make their plans only to be thwarted by a squid of colossal dimensions. But Nemo wrestles his ship free in his usual efficient manner and now it is only Nemo himself left to block their escape.Written in the late 1800's, 20,000 Leagues Under The Sea is a marvel. Verne imagined self sufficient underwater vessels, electric "bullets" (that's tazers to you and me) and all kinds of things that is norm to modern man, but to a man on the brink of the 20th Century only fantastical. He also surprised me with his outright admonitions of humanity for its over fishing/whaling and the dire consequences if left unchecked.Although I could have done with less of the eye-glazing cataloging and info dumping, when the action hits, it hits in a big way.Truly a man ahead of his time, Jules Verne deserves his unofficial title as the father of science fiction as he teaches, imagines, admonishes and entertains generation after generation- but isn't that what good sci fi is supposed to do?