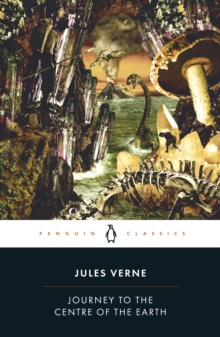 Journey to the Centre of the Earth
Paperback
Description
Jules Verne's wild and riotous fantasy Journey to the Centre of the Earth delves into the hidden mysteries of a vast, uncharted subterranean world.
This Penguin Classics edition is translated from the French by Frank Wynne with an introduction by Jane Smiley and notes by Peter Cogman.Jules Verne's pioneering science fiction classic tells the story of the distinguished but eccentric Professor Lidenbrock, who finds a scrap of parchment in an old manuscript.
A cipher written in runes, it tells of an entrance to another world - a world hidden beneath our own, illuminated by an electrified gas and populated by strange, prehistoric beings.
So with his nephew reluctantly in tow, the Professor follows this cryptic clue down into a dormant volcano in Iceland, and the further they descend, the more extraordinary the discoveries and creatures that they encounter, the greater the dangers, and the more ancient the living past that surrounds them.This new translation by Frank Wynne is accompanied by an introduction on the science of Verne's work and its influences.
This edition also includes notes, a chronology and suggested further reading.Jules Verne (1828-1905), the 'father of Science Fiction' was born in Nantes, developing from early childhood a romantic fascination for the ships and the sea.
In 1848 he moved to Paris, ostensibly to become a lawyer, though his true ambition was to become a writer.
His first book, Five Weeks in a Balloon (1863) was an immediate popular success, followed a year later by Journey to the Centre of the Earth; among the most popular of the fifty-four books published during his life are From the Earth to the Moon (1865), Twenty Thousand Leagues Under the Sea (1870) and Around the World in Eighty Days (1873).If you enjoyed Journey to the Centre of the Earth you might like H.G.
Wells' The Time Machine, also available in Penguin Classics.
Information
Format: Paperback
Pages: 288 pages
Publisher: Penguin Books Ltd
Publication Date: 30/07/2009
Category: Classic science fiction
ISBN: 9780141441979
Other Formats
Paperback from £2.50
EPUB from £0.99
Hardback from £6.15
CD-Audio from £9.95
Mixed media product from £10.15
Free Home Delivery
on all orders
Pick up orders
from local bookshops
Reviews
Showing 1 - 2 of 2 reviews.
Review by booklove2
16/06/2015
I thought I should read Jules Verne, H.G. Wells and books like that before I start in on steampunk. Jules Verne puts the science in science fiction. I personally love that he writes about geology or biology in his bizarre narratives. Just to learn a bit! This one does have a bit of a slow start to get to the mountain to go underground... it's around page 80. But then the story picks up speed and it keeps one-uping itself with what is found under that Icelandic volcano. I loved the story more than I thought I would of Professor Otto Lidenbrock, his nephew Axel, and the trusty Icelandic assistant Hans, always getting them out of a bind. The book is far less boring than I thought it would be. (And also, I want to avoid any movies made from these books, since I can't imagine they're better.) But try not to find it interesting when a character is lost 75 miles under the earth and then his torch goes out... and I don't want to mention anything else they find to ruin the book. I love most 19th century stories and this is no exception but it seemed like I was reading this one in five page chunks. I'm looking forward to others from Verne though! And I can't wait to get into steampunk!
Review by BookConcierge
27/01/2016
Book on CD performed by Simon Prebble<br/><br/>Book three in the Extraordinary Voyages series begins with Professor Otto Lidenbrock showing a volume of Icelandic literature to his nephew Axel. A sheet of parchment falls out. It contains a coded message by a 16th century scientist. Although Axel fears that decoding it will lead to some ill-advised adventure he helps his uncle decipher the message, which, of course, gives direction for finding a passage to the center of the earth.<br/><br/>This is a classic adventure tale – imaginative, humorous, suspenseful and even though high implausible still great fun. I found it a bit slower to get going than some of Verne's other tales (we are a third of the way into the book before they even get to the crater that has the passage to the center of the earth), but once they began their descent I enjoyed it more. The "science" may be complete fantasy, but Verne's imaginative text just pulls the reader along. <br/><br/>Simon Prebble does a fine job narrating the audio version. He has good pacing and he brings the characters to life. I especially liked his voice for the irascible Professor Lidenbrock. <br/>