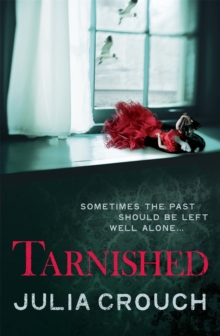 Description
Peg always felt a little blurred, a little lacking in definition.
Her mother died when she was six, her father simply disappeared, and she was brought up by her grandparents and her obese, bedridden aunt.
But, despite all this, she never developed the habit of asking questions.
At least, not until she met Loz, her straight-talking, psychotherapeutically literate girlfriend, who urges her to confront her demons.But as the skeletons come tumbling out of the family closet and the full horror of the past begins to reveal itself, Peg starts to wonder whether her youthful lack of curiosity might not have been a good thing.
A very good thing indeed...
Information
Format: Paperback
Pages: 384 pages
Publisher: Headline Publishing Group
Publication Date: 01/03/2013
ISBN: 9780755378043
Other Formats
Paperback from £6.75
EPUB from £4.49
Free Home Delivery
on all orders
Pick up orders
from local bookshops
Reviews
Showing 1 - 3 of 3 reviews.
Review by nicx27
16/06/2015
I haven't read any of Julia Crouch's work before, so was sort of expecting this book to be a psychological thriller like her others seem to have been. It's not quite a thriller but it is definitely a psychological book. The main character is Peg, a woman in her early 20s who is only just starting to remember parts of her childhood that she seems to have blocked out. She spent much of her life with her nan, Doll, and her aunty Jean. Doll is a tiny but incredibly strong woman, and Jean is a massive woman who hasn't been out of bed for 10 years. Peg had moved away but when Doll has a fall and Peg has to go back and sort out her bungalow, in which Doll has hoarded everything and anything over the years, Peg starts to discover things that don't quite make sense and long-buried mysteries start to fall into place.I really liked this book. It's quite a page-turner and I enjoyed how Peg and Loz, her girlfriend, uncovered the past bit by bit. The story managed to keep up the suspense of who did what until right at the very end, which is an impressive thing to do. I think Julia Crouch really portrayed the location, the squalor of the bungalow and the characters extremely well. I'd definitely read another by this author.
Review by Karen-uk
16/06/2015
Peg is in her twenties and has very little memory of her childhood. She knows that her mother died when she was only a young child and that her father disappeared soon afterwards. She was brought up by her beloved nan and granddad, the gentle and kind Dolly and Frank together with aunty Jean - her father's parents and sister.Peg has never been a confident person. Although she felt loved by her grandparents and Jean, her schooldays were miserable and friendless and she has always believed everything she has been told without question. However, she now realises that she is starting to remember snippets of her childhood - is her memory playing tricks on her or is she really remembering?There are some very unlikeable characters in Peg's life. Her father seemed to be a shady character - a nightclub owner who appeared to be involved in some unlawful activities. Her aunty Jean is a vile character, she is manipulative and despite being bedridden for many years due to her obesity, she still insists on continuing to eat her own bodyweight in food and smoking her cigarettes in between puffing on her oxygen mask. I didn't really warm to Peg either at first - I thought she was too meek and too easily manipulated by other people, especially her feisty girlfriend Loz and her aunty Jean.This was a slow burner of a story and whilst not an edge of your seat thriller, it starts very slowly with the tension building throughout the book, with sinister twists and turns until the conclusion - which I never saw coming. Peg, with Loz's help, tries to put together her fragments of memory and find out the truth concerning her family never imagining the danger heading her way.This was an excellent read and I would certainly recommend it.
Review by Holly_85
16/06/2015
This book is difficult for me to review, because while it was good in parts, it was ultimately a bit of a let down, and I was so looking forward to it. I suppose it was more of an average read.<br/><br/>There were a couple of issues I had. Firstly Peg (the protagonist) was quite one dimensional, and I felt I didn't get to know her as much as I would have liked.<br/><br/>Secondly, this was more of a traditional thriller than the excellent Cuckoo (also by Julia Crouch), and as such there was less in the way of psychological development.<br/><br/>Thirdly, although I know the ever present cases of bad grammar were used in order to portray the nature of the characters contained, this did begin to grate on me.<br/><br/>Lastly, the crux of the plot was not relaid until the final pages of the novel. While this did maintain a level of tension for me, I did become increasingly frustrated. Although to be fair, I had actually guessed the final plot maneuver when I was just over halfway though.<br/><br/>All in all an average read.