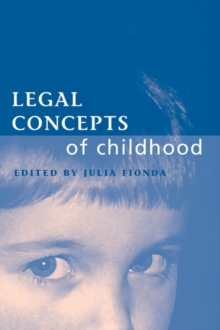 Legal Concepts of Childhood
Hardback
Description
Concepts of who and what children are and what childhood consists of have changed over time. Our historical and contemporary notions of childhood also change according to the context of the interaction between the child and the state.
This book is concerned with various ideas of what childhood consists of where the child is involved with the legal system. An identification of legal concepts of childhood can offer many insights into our treatment of children,the capacities which we expect them (possibly unfairly) to possess and the extent of any protection which they deserve or can expect from those charged with the responsibility for their welfare.
Each essay in this collection focuses on a particular legal discipline which centrally involves children whether as litigants, victims or perpetrators of crimes, owners of property, recipients of welfare services etc.
The object of the analysis is to assess how children are regarded by lawyers in each discipline; for example, as objects of concern, requiring protection; as autonomous possessors of rights; as lacking in moral consciousness or full mental capacity; or as fully aware of and accountable for their actions. In order to make comparisons with notions of childhood in other contexts, the substantive part of the book will also include essays on the perspectives on childhood at the core of other disciplines including sociology, psychology, philosophy and literature.
Information
Format:Hardback
Pages:256 pages, black & white illustrations
Publisher:Bloomsbury Publishing PLC
Publication Date:04/12/2001
Category:
ISBN:9781841131504