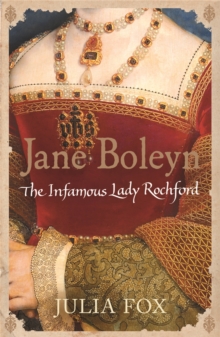 Jane Boleyn : The Infamous Lady Rochford
Paperback
Description
The story of Henry VIII's queens - as seen through the eyes of Jane Rochford, sister-in-law to Anne Boleyn and cousin to Katherine Howard.Jane Rochford was sister-in-law to Anne Boleyn and Lady of the Bedchamber to Katherine Howard, whom she followed to the scaffold in 1542.
Hers is a life of extraordinary drama as a witness to, and participant in, the greatest events of Henry's reign.She arrived at court as a teenager when Katherine of Aragon was queen.
Even before Henry's marriage to Anne, her own marriage to George Boleyn brought her into the closest royal circles - and there she remained through the unfolding spectacle and tragedy of Henry's succession of marriages.
She survived the trauma of Anne and George's executions and despite briefly being banned from Court managed to regain her place there to attend on Jane Seymour and Anne of Cleves.
Her supposed part in both Anne Boleyn's and Katherine Howard's downfall has led to her being reviled through centuries.In this fascinating biography Julia Fox repudiates the idea of the infamous Lady Rochford and Jane emerges as a rather modern woman forced by brutal circumstance to fend for herself in a politically lethal world.
Information
Format: Paperback
Pages: 416 pages
Publisher: Orion Publishing Co
Publication Date: 01/03/2008
ISBN: 9780753823866
Free Home Delivery
on all orders
Pick up orders
from local bookshops
Reviews
Showing 1 - 1 of 1 reviews.
Review by john257hopper
16/06/2015
This attractively written book tells the story of Jane Boleyn, the wife of Queen Anne Boleyn's brother George. Not a great deal is known about her life other than her involvement in the fall of her brother and sister in law, and her own demise together with that of Queen Catherine Howard six years later, but a fair amount can be divined from property transactions and other documentation. The thrust of the author's argument is that Jane cannot have betrayed her husband and Anne as is traditionally thought as this would have been economic suicide for a woman in her position (she did suffer comparative poverty after their executions until she was able to persuade her father in law Thomas Boleyn to provide for her more liberally). I can see the author's point, but am not sure that I am really persuaded that she has been quite as grossly maligned as the author believes; I suspect that Jane was caught up in events that spiralled beyond the control of a woman who seems to have been seduced by the glitz and glamour of court life and unwilling to relinquish being at the centre of events - so naive rather than malign perhaps, though having been at the heart of events for some years, she arguably should have known better. She was fortunate to have restored her position as a lady of the bedchamber to Jane Seymour, Anne of Cleves and finally, fatally, to Catherine Howard. Again, she got caught up in the latter's affair with Thomas Culpepper, and this time there was no escape; by the standards of the time, she was justly condemned for abetting the Queen's treasonous affair. A Tudor tragedy, to be sure, but not, in my view, on a par with that of Anne and George and many others wrongly brought down by King Henry VIII.
Also by Julia Fox