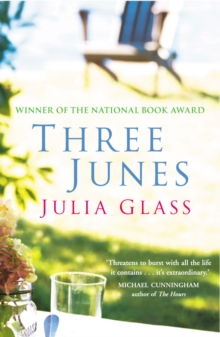 Description
In this captivating debut novel, Julia Glass depicts the life and loves of the McLeod family during three crucial summers spanning a decade.
Paul McLeod, patriarch of a Scottish family and a retired newspaper editor and proprietor, is on a package tour of Greece after the death of his wife.
The story of his departure from the family home in Scotland and late gesture towards some sort of freedom gives way to his eldest son's life (Fenno).
Fenno protects his heart by putting himself under emotional quarantine throughout his life as a young gay man in Manhattan.
When he returns home for his father's funeral, this emotional isolation cannot be sustained when he is confronted by a choice that puts him at the centre of his family and its future.
Three Junes is a novel about how we live and how family ties (those that we make as well as those that we are born into) can offer redemption and joy.
Information
Format: Paperback
Pages: 544 pages
Publisher: Cornerstone
Publication Date: 24/05/2003
ISBN: 9780099460299
Free Home Delivery
on all orders
Pick up orders
from local bookshops
Reviews
Showing 1 - 5 of 7 reviews.
Previous | Next
Review by msbaba
16/06/2015
Some books have transcendent plots that carry you away on a fictional journey. Others are like fine works of art; you read them to be swept away by the sheer beauty of the prose. Still others are clever or thrilling, always staying one step ahead, compelling the reader to try to figure out the what is going on and why. Then there are the detailed character studies—these books bring a single character to life so effectively that readers feel they know this person better than almost anyone else. Every novel tries to deliver deeply wrought characters that spring to life off the page. But once a reader puts a book down, and goes on to another, generally these characters slowly disappear from memory. But not all fictional characters fade away; with some novels the entire focus of the work is on such fine and deep characterization that readers will remember that character for the rest of their lives. <i>Three Junes</i> by Julia Glass is just such an incredible character study. The character we come to know so deeply is Fenno McCloud. It's a brilliant creation…no wonder it won the National Book Award in 2002! And what type of character did Julia Glass bring to life in Fenno McCloud? Is he some larger-than-life role model? No, Fenno is just another decent human being struggling to live a good life in a difficult world. Perhaps he is unique because he possesses a strong moral compass and this is what attracts us to him. Fenno is gay, but his sexuality is not important in the overall scheme of this book; also, there is nothing in this book that is titillating. Through its artistic three-part structure, Fenno McCloud comes alive. Much of the depth of the character study is derived from the book's unique structure. The author describes it as a triptych—a three-part work consisting of a large center novel flanked on either end by two small novellas. Each piece could stand alone, but together they perform symbiotically to create something far greater. It is a structure that allows the reader to learn about Fenno from different perspectives.The first part, named <i>Collies,</i> tells the story of Fenno McCloud's father, Paul, during June of 1989—a time in his life when he is vacationing in Greece recovering from the death of his wife, Maureen. There are many flashbacks where we are introduced to many of the major characters in the novel including Paul's eldest son, Fenno. There is a young American woman on the trip named Fern. Paul finds her disarming, and soon he is telling her his innermost secrets. The long central novel, named <i>Upright,</i> is set in June of 1995. Fenno is living in New York at the height of the AIDs epidemic. And the mantra that runs through his head is "stay upright and you will stay alive." In this section we are introduced to Fenno's friends and move with him through his everyday home and work life. There are numerous flashbacks where we learn about Fenno's Scottish family. In the third part, named <i>Boys, </i> and set in June of 1999, Fern again plays a pivotal role. Fenno and Fern meet each other in New York, never knowing that Fern knew Fenno's father in Greece ten years earlier. Just like his father before him, Fenno finds Fern disarming, and soon he is opening up to her and telling her his innermost secrets. That father and son, would find Fern and both see her as the perfect confidant…well, that makes the serendipity of their coming together even more magical. The three sections permit us to view Fenno not only from his own point of view, but also from the points of view of those people who are most important to him. The action of the book is centered around Fenno's relationships—those with his father, his mother, his two brothers, the brothers' wives and children, his friends and lovers in New York, and even his beloved parrot, Felicity. This novel is not for everyone. If you need a strong plot or a compelling storyline, look elsewhere: this novel is decidedly a realistic portrayal of everyday life, nothing more. If you love a novel with deep character development, look no further: this book is about as good as they get. If after finishing the book, Fenno becomes so much a part of your life and you want some more time with him, you will be happy to know that Fenno reappears as one of a group of major characters in Julia Glass' latest novel <i>The Whole World Over. </i> Both novels are excellent and highly recommended, but "Three Junes," is truly exceptional.
Review by susabusa
16/06/2015
Started great and I thought I was really going to like this one. Especially after I finished The Whole World Over and read in the reviews of that one that The Three Junes was better. I really didn't think it was better. It was interesting, but it wasn't --"forget the dishes, I've got to finish my book!" And that is what I was expecting.I thought the character of Fenno was a bit aloof and pompous -- especially after I enjoyed his character in The Whole World Over. Maybe I wanted a neater ending, I wanted Fenno to realize that Fern had known his father. For Fern to provide Fenno with some knowledge about his father's last months in Greece. I wanted there to be some resolution at the end and I really didn't feel like there was.
Review by aliciamalia
16/06/2015
Everyone seems to be reading this these days. The first 100 pages are slow going, but it really picks up after that. There are multiple narrators (all connected through blood or friendship) with distinct voices and points of view. There's a plot, but the book really isn't about that--I felt that it was more about exploring relationships and emotions and feelings. Definitely worth checking out.
Review by rainpebble
16/06/2015
really liked this one, got into the characters, didn't want it to end, could have gone "Ten Junes".
Review by bkoopman
16/06/2015
Three Junes out of a decade. Two generations from a family. Three countries with great settings: Scotland, Greece and New York. Odd, coincidental relationships. But the main story doesn't really get started until quite late, maybe half-way. This sub-plot is the story of Fenno who is homosexual and doesn't understand love. Through a relationship with a man with AIDS in New York, he learns compassion. It took awhile to get into this book. I appreciated the sensitivity of the storyline about sexuality and love. I think that the subplot, by itself, would have made for a better read.