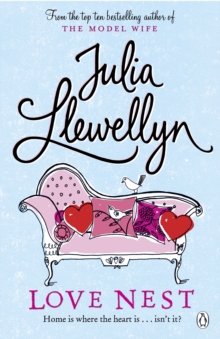 Description
Roll the diceGrace's childhood home, Chadlicote Manor, is being sold to settle family debts.
Will losing her home break her heart or is it the chance for a new life?... move two spacesKaren's husband has the Manor in his sights as a chance to start over in rural paradise.
But Karen prefers city living and, when a new flame turns up the heat, starting again might just mean the end of the road.... climb the ladderGemma is longing for a baby and, unlike her own loft apartment, Karen's house is an ideal family home.
But the dream house can only have its dream baby if Gemma can convince her flakey sister to help out. ... to land onUp-and-coming rockstar Nick has designs on Gemma's flat. He's also taken a shine to classy estate agent, Lucinda, but she's not all she seems - and neither is he, since he's hiding a girlfriend he's looking to ditch when the sale goes through.. . . the Love Nestwhere all their troubles come home to roost!
Information
Format: Paperback
Pages: 464 pages
Publisher: Penguin Books Ltd
Publication Date: 04/02/2010
Category: Romance
ISBN: 9780141033655
Free Home Delivery
on all orders
Pick up orders
from local bookshops
Reviews
Showing 1 - 1 of 1 reviews.
Review by Twink
16/06/2015
There is sometimes just a 'right time' to read a book. A sunny day, warm enough to sit outside was the perfect time to read The Love Nest. Light, witty and just downright fun to read. The premise of the novel is quite entertaining - all based on the characters 'movin' on up' in the housing market. Each sale is dependent on the next....Grace's childhood home - a manor - is to be sold off to pay debts now that her mother has died. Karen's husband Phil desperately wants to move to the country from London and thinks the manor would be perfect for their family. Karen doesn't.Gemma and Alex are trying to have a baby and want to move to a family home -in fact Karen and Phil's house would be just right.Rock star Nick Crex thinks that Gemma and Alex's loft would be just the property to invest in. But he doesn't want his girlfriend to know about it. And Lucinda, the real estate agent, thinks Nick might just fall for her, if she can get him that loft. But all is not smooth sailing....Llewellyn has created many characters, all with very different personalities. I didn't warm up to all of them, but they all provoked a reaction. Some of them were selfish and shallow, others were warm, quirky and caring. I especially took to Grace and would love to had more of her story. There are enough personalities to keep things interesting. The plot has myriad threads, but I had no problem keeping them all straight. Llewellyn has done a fantastic job of weaving all the stories together. The ending for each story isn't all fairy tale - some turned out different than I would have imagined.An enjoyable read that definitely kept me entertained!Llewellyn was a new British author for me, but one I will be reading again. Fans of Jill Mansell and Marian Keyes would enjoy this chick lit author