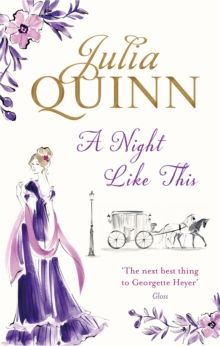 A Night Like This
Paperback
Description
Anne Wynter's job as governess to three highborn young ladies can be a challenge - in a single week she finds herself hiding in a closet full of tubas, playing an evil queen in a play and tending to the wounds of the oh-so-dashing Earl of Winstead.
After years of dodging unwanted advances, he's the first man who has truly tempted her, and it's getting harder and harder to remind herself that a governess has no business flirting with a nobleman. Daniel Smythe-Smith might be in mortal danger, but that's not going to stop the young earl from falling in love. And when he spies a mysterious woman at his family's annual musicale, he vows to pursue her.
But Daniel has an enemy, one who has vowed to see him dead. And when Anne is thrown into peril, he will stop at nothing to ensure their happy ending ...New York Times bestselling author Julia Quinn's enchanting second novel in the Smythe-Smith quartet is guaranteed to make you laugh out loud and tug at your heartstrings in equal measures.
Information
Format: Paperback
Pages: 384 pages
Publisher: Little, Brown Book Group
Publication Date: 01/05/2012
Category: Historical fiction
ISBN: 9780749956806
Free Home Delivery
on all orders
Pick up orders
from local bookshops
Reviews
Showing 1 - 5 of 6 reviews.
Previous | Next
Review by riverwillow
16/06/2015
This was an OK read, but not one that I found as funny or as interesting as other books written by Quinn, or the first in the series. It just felt all too predictable and I just couldn't sum up enough interest to care about either Daniel or Anne. Still there were some funny moments and it passed the time.
Review by msjessie
16/06/2015
Much like the first in the series, Just Like Heaven, this is a charming and easy read. The Smythe-Smith Quartet is shaping up nicely to become a must-read - which is something that doesn't often happen for me with this type of romance novelish book. A Night Like This is a light-hearted and thoroughly charming novel with two very likeable and compatible leads in Daniel and Anne (and scene-stealers in Frnaces, Elizabeth and Harriet.) There's much more than steamy sex scenes to look forward to in this - there's comedy aplenty (I admit I lol'd at the play chapter especially) and plenty of action and danger to keep the pages turning with alacrity. I freely admit don't read a ton of romance novels - I have nothing against them, but on the whole, every reader goes into that genre of novel generally knowing the final outcome: love, sex and a happy ending. What makes it fun to read these type of books are the authors who take the time to create whole, rounded characters and a real plot to keep things advancing instead of just sex scene after sex scene. I don't/can't/won't care about the sex if I am not emotionally invested in the people having it! Julia Quinn is one of those rare authors, which is why I have found myself completely wrapped up in everything in this novel. There is am emphasis on the romance (instalove ahoy), but I didn't mind in this book, with these two. Thankfully, both Anne and Daniel are both flawed, amusing, wholly believable, personable characters with motivations and secrets of their own. They complement each other very well and have chemistry to burn but they are not utterly dependent on the other. Anne is a resourceful and smart girl that can save herself - and does on several occasions. Daniel's chacterization is a bit more typical of a young, honorable lord but his sense of humor and interactions with Miss Wynter show a more rounded version of the Earl.I can't talk about characters in A Night Like This without mentioning the unexpected and utterly hilarious trio of girls that Anne is governess for: Frances, the unicorn-loving youngest, the middle-child Elizabeth, constantly caught between propriety and annoying her older sister, and Harriet, the earnest young playwright behind such classics as The Strange, Sad Tale of The Lord Who Was Not Finstead. Anne and Daniel are more than compelling to read about with their interwoven tales of revenge and mystery, but it is the three Pleinsworth cousins who truly make this as light-hearted and humorous as it is. Several times during their appeareances I would actually laugh-out-loud (thank you, Frances.) The cast of this novel is really the biggest attraction to he had - moreso than the slightly predictable plot, or even than the genuinely sweet romance angle of the two main leads, the large, clangorous and musically-impaired Smythe-Smith family is just plain fun to read about.This is only the second of the series, and my imagination is already at work trying to predict the main leads for the third novel. Hugh Prentice and Sarah? Harriet? While it's a bit early to tell just now, you can be sure that I will be stalking GoodReads, waiting for the next book to pop up with information. Julia Quinn has an easy, inimitable style and her novels are an amusing way to pass an afternoon, but rewarding at the same time. With each novel of this author's that I read, I am more and more inclined to buy another. Fans of her Bridgerton series as well as of the first book will find more of the same here easy humor and steamy sexy scenes in A Night Like This.
Review by Lauren2013
16/06/2015
A Night Like This
3.5 Stars

Likeable characters but is missing the wit and charm of Quinn's other books and the plot is too drawn out at the beginning.

The first 1/3 is boring. The interminable scenes with the Pleinsworth girls are excessively long and add nothing to plot or characterization. Thankfully, things begin to liven up when Anne's big secret comes back to haunt her.

The suspense plot is well-developed and intense, and the villain truly despicable - this is what saved the book for me. The story from this point is darker in tone than Quinn's other books (it shares some similarities with An Offer from A Gentleman but is much harsher).

Anne is a strong and admirable heroine. Her traumatic past and the descriptions of how she suffered and coped over the years are heartbreaking at times.

Unfortunately, the same cannot be said for Daniel. It is never a good thing when you prefer a secondary character over the hero and Hugh is for more intriguing. Daniel's immediate and all encompassing infatuation with Anne is unrealistic and his stalker-like tendencies are potentially disturbing as is his disregard for the consequences Anne faces if they should be caught. He is, however, somewhat charming, patient and loyal which softens the more annoying aspects of his personality.

All in all, the book is a little disappointing but the suspense plot and the exciting climax make it a worthwhile read. Looks like Hugh's book is next and I'm salivating already.
Review by bookwormdreams
16/06/2015
Another love story about a member of a Smythe-Smith family. Sadly, their famous musical abilities were not the focus of this story, but it's mentioned of course a couple of times.<br/><br/>Daniel Smythe-Smith comes back home the evening of famous yearly Smythe-Smith's musical (<s>un</s>lucky him). Weirdly, the tradition is broken this year and some girl (Anne Wynter) who is not member of Smythe-Smith family is playing the piano. But then he looks into her eyes and ... ZAP! Insta-love. As he admits, he saw beautiful women before but he is sure he can not live without this one... I never could stomach insta-love plots, they seem un-realistic to me and I do not believe it can be true love and lead to true HEA.<br/><br/>Anne Wynter is a governess for three young girls: Harriet, Elizabeth and Frances (Smythe-Smith's cousins). I loved these girls. Their conversations were full of humor and love for life and I always read them with a smile on my face. Here's a little example:<br/><blockquote><i>"What happened to your face?" Harriet asked.<br/> "It was a misunderstanding," Daniel said smoothly, wondering how long it might take for his bruises to heal. He did not think he was particularly vain, but the questions were growing tiresome.<br/> "A misunderstanding?" Elizabeth echoes. "With an anvil?"<br/> "Oh, stop", Harriet admonished her. "I think he looks very dashing."<br/> "As if he dashed into an anvil."</i></blockquote><br/>Another thing that bothered me in this book is that whole plot is just over-the-top. It feels like Julia Quinn was inspired with "Miss Butterworth and the Mad Baron". o.O There is amount of evil villains, murder attempts and kidnaps that one historical romance novel can contain before it becomes absurd.<br/><br/><b>My rating:</b> 3 stars because of insta-love and ridiculous plot.<br/><br/><b>Will I be reading next book in series?</b> Yes. I hope Harriet, Elizabeth and Frances will be in the next book too!
Review by cranberrytarts
16/06/2015
Another light read from Quinn. It was enjoyable, but not as much as Just Like Heaven, the first Smythe-Smith novel.<br/><br/>I did laugh out loud several times. Anne's young charges and their antics had me in stitches.
Also in the Smythe-Smith Quartet series | View all