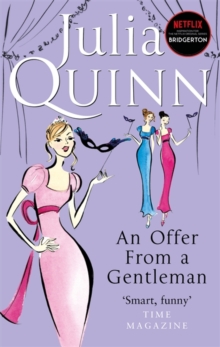 An Offer From A Gentleman : Number 3 in series
Paperback
Description
Sophie Beckett never dreamed she'd be able to sneak into Lady Bridgerton's famed masquerade ball -- or that "Prince Charming" would be waiting there for her!
Though the daughter of an earl, Sophie has been relegated to the role of servant by her disdainful stepmother.
But now, spinning in the strong arms of the debonair and devastatingly handsome Benedict Bridgerton, she feels like royalty.
Alas, she knows all enchantments must end when the clock strikes midnight.
Ever since that magical night, a radiant vision in silver has blinded Benedict to the attractions of any other - except, perhaps, this alluring and oddly familiar beauty dressed in housemaid's garb whom he feels compelled to rescue from a most disagreeable situation.
He has sworn to find and wed his mystery miss, but this breathtaking maid makes him weak with wanting her.
Yet, if he offers her his heart, will Benedict sacrifice his only chance for a fairy tale love?
Information
Format: Paperback
Pages: 384 pages
Publisher: Little, Brown Book Group
Publication Date: 25/08/2006
Category: Historical romance
ISBN: 9780749936594
Free Home Delivery
on all orders
Pick up orders
from local bookshops
Reviews
Showing 1 - 2 of 2 reviews.
Review by rocalisa
16/06/2015
An Offer from a Gentleman by Julia QuinnThe Bridgerton family is wealthy, well born, and universally admired. And with six of the eight Bridgerton children already mingling with society, it's no wonder they're mentioned so frequently in the most popular (and accurate) source of social news, Lady Whistledown's Society Papers. But not even the mysterious Lady Whistledown can identify the masked maiden who completely captivated the Bridgerton second son, Benedict, at his mother's masquerade ball -- a silver-clad beauty who vanished on the stroke of midnight. It was a magical night for Sophie Beckett, orphaned, illegitimate daughter of the Earl of Penwood. Attending the ball was a beautiful dream, sharing the evening with Benedict Bridgerton was the stuff of fantasy -- and returning home to her role as unpaid servant to her father's cruel widow and stepdaughters was a nightmare. Then she lost even the small security of that position, and things went from bad to worse. By the time Sophie met Benedict again, she was in truly desperate straits. He made her feel precious, even in rags, but Sophie had grave reservations about accepting.I really enjoyed this addition to the Bridgerton family saga.At last, I had characters who didn't have to marry because the woman had been compromised, and in fact, it looked like they wouldn't be able to marry at all for most of the book.Despite it probably being inappropriate for a modern woman to say so, the whole Cinderella-story works for me. And this is very clearly a telling of the Cinderella story, complete with an evil stepmother, stepsisters and a suitably handsome prince in Benedict. At the same time, Quinn doesn't let the fairy-tale direction of her story overcome the setting she has chosen to use.The title comes from Benedict's not-exactly-honourable offer to Sophie that she become his mistress. Not perhaps what one immediately wants in a romantic hero, but given their positions and the society they live in, exactly what a gentleman in his position would do. Sophie's reasons for refusing are sensible and certain and the story unfolds as they try to find their own balance and resolution.Of course, there is a happy ending. Perhaps the way it comes about is a little too pat, but not by much. I can easily imagine Violet Bridgerton "convincing" Sophie's stepmother to do pretty much anything she wished, and the hero and heroine are engaging to the reader, so that I wanted them to get their happy ever after in true fairy tale fashion.A fun read.An Offer From a GentlemanBridgertons, Book 3Julia Quinn7/10
Review by Anniik
16/06/2015
This is a cute retelling of "Cinderella" - Julia Quinn style. Sophie is the sweet, abused Cinderella character, complete with the wicked stepmother and evil stepsisters. She's dressed up by loyal servants to have one evening at a ball - from which she must return by midnight - and at that ball falls in love with Prince Charming - Benedict Bridgerton. It's cute to see this story played out in Regency England, and with our beloved Bridgertons. Unlike in Cinderella, though, things don't go "happily ever after" quite so easy. For one thing, Benedict doesn't even recognize her when they first meet again - much to Sophie's dismay. I enjoyed this book a great deal!
Also in the Bridgerton Family series | View all