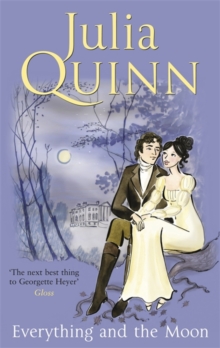 Everything and the Moon
Paperback
Description
When Robert Kemble stumbles across Victoria Lyndon in a hedgerow maze, he can't believe his eyes.
The girl who'd torn him in two, who let him plan an elopement and then left him standing by the side of the road, was suddenly within arm's reach, and even though his fury still knew no bounds, she was impossible to resist. Victoria's father had told her an earl would never marry a vicar's daughter, and he was right.
Robert had promised her marriage, then danced off to London while she suffered the shame of a foiled elopement.
But even though Victoria doesn't particularly enjoy her new life as a governess, when Robert offers her a job of a different sort - his mistress - she refuses, unable to sacrifice her honour, even for him. But Robert won't take no for an answer, and he vows to make her his, through any means possible.
Can these star-crossed lovers learn to trust again? And is love really sweeter the second time round?
Information
Format: Paperback
Pages: 384 pages
Publisher: Little, Brown Book Group
Publication Date: 01/12/2008
Category: Historical fiction
ISBN: 9780749908959
Free Home Delivery
on all orders
Pick up orders
from local bookshops
Reviews
Showing 1 - 3 of 3 reviews.
Review by CatyM
16/06/2015
I enjoyed this book. It required considerable suspension of disbelief, but once my disbelief was dangling just below the ceiling I did get quite intrigued by it. The heroine is bordering on TSTL - but you can see why she does some of the things she does, even when (a) said action is practically suicidal or (b) she probably ought to have got over those hangups by now. The hero can be overbearing, annoying and far from stupidity-free himself - although he can also be charming. Their main Big Misunderstanding is understandable (sorry) but it takes them far too long to fix it and stop being unreasonably suspicious of one another and to stop behaving like idiots. That said, it's entertaining and fun, and has some very sweet moments. Some of the secondary characters are wonderfully silly and very likeable. The book is well structured and well paced, and although there are a couple of mistakes they are not significant. I think this now completes my reading of Quinn's back-list; this wasn't one of my favourites, but I did enjoy reading it.
Review by Lauren2013
16/06/2015
Everything and the Moon
3 Stars

As a huge fan of Quinn's Bridgertons series, it always amazes me that the same writer is responsible for her ridiculously plotted early works.

Everything and the Moon has potential as a story of lovers reunited after a huge misunderstanding. Let me preface the rest of this review by saying that this theme is one I detest with a vengeance. That said, it is actually well-written here and the first half of the book is engaging, particularly due to Robert and Victoria's witty sniping and bickering (Quinn is very skilled at this type of dialogue).

Unfortunately, the second half of the book is drawn out and tedious. The huge misunderstanding is quickly resolved and the rest of the story revolves around Robert's obsessive determination to force Victoria into marriage (supposedly for her own good) and her playing hard to get - running hot one minute and cold the next. At this point, I lost interest in the characters and their romance despite their early chemistry.

All in all, the book is well-written (despite the repetitions of some scenes that act more as filler), the dialogue is snappy and there are several endearing moments that make it all worthwhile.
Review by wyvernfriend
16/06/2015
Dear Robert, you kidnapped her, of course she's upset. Apologise lots and start to understand that you're entering a partnership and she's quite an independent person, you have got to treat her better or she's going to be miserable.Dear Victoria, he means well, you're going to have to keep fighting for some independence. He's a bit of an idiot and you will have to keep him on his toes or he's going to start taking your for granted.It's not a bad read, two people fall in love and enjoy a summer, however both fathers are against the match which causes them to fall out and get caught up in a huge misunderstanding. The two of them meet again seven years later when Victoria is working as a governess and hating her work. They have to work through several layers of misunderstanding before they can have their happy ever after.Light, I did have some issues with some of the kidnapping and the certainty the hero had that he was right all the time.