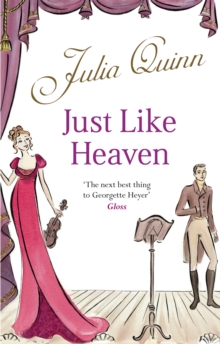 Just Like Heaven : Number 1 in series
Paperback
Description
Honoria Smythe-Smith, the youngest daughter of the eldest son of the Earl of Winstead, plays the violin in the annual musicale performed by the Smythe-Smith quartet.
She's well aware that they are dreadful. In fact, she freely admits (to her cousins) that she is probably the worst of the bunch.
But she's the sort who figures that nothing good will come of being mortified, so she puts on a good show and laughs about it.Marcus Holroyd is the best friend of Honoria's brother Daniel, who lives in exile out of the country.
He's promised to watch out for Honoria and takes his responsibility very seriously.
But he has his work cut out for him when Honoria sets off for Cambridge determined to marry by the end of the season.
She's got her eye on the only unmarried Bridgerton, who's a bit wet behind the ears.
When her advances are spurned, can Marcus swoop in and steal her heart in time for the musicale?
Information
Format: Paperback
Pages: 384 pages
Publisher: Little, Brown Book Group
Publication Date: 01/06/2011
Category: Historical romance
ISBN: 9780749941994
Free Home Delivery
on all orders
Pick up orders
from local bookshops
Reviews
Showing 1 - 5 of 10 reviews.
Previous | Next
Review by rainrunner
16/06/2015
3.5 stars. Segment where the hero has an injury was a bit too much and I think the pages and pages of it weren't necessary. Would have rather read more banter and romance between the H/h.
Review by riverwillow
16/06/2015
A fast and funny read, even when our hero is in danger of dying (a nice reminder from Quinn about the dangers of living in the eighteenth century). The two main protagonists are lovely characters and the insight into the workings of the Smythe-Smith Quartet was very amusing. She's not in the same league and Heyer and it would be sacrilege to even consider her anywhere near the same league as Austen, as some of the reviewers here do, but if you're looking for something amusing to while away a couple of hours this is perfect.
Review by msjessie
16/06/2015
After reading three pretty emotionally fraught novels (Games to Play After Dark, Lock and Key, The Truth About Forever) I was in desperate need for something light, easy, fluffy, fun and cute. I saw Just Like Heaven and looked at the blurb on the back:Honoria Smythe-Smith is:A) a really bad violinist B) still miffed at being nicknamed "Bug" as a child C) not in love with her older brother's best friend D) all of the aboveMarcus Holroyd is:A) the Earl of Chatteris B) regrettably prone to sprained ankles C) not in love with his best friend's younger sister D) all of the aboveTogether they:A) eat quite a bit of chocolate cake B) survive a deadly fever and the world's worst musical performance C) fall quite desperately in loveIt's Julia Quinn at her best, so you know the answer is . . .D) all of the above.This is clearly more romance novel-ish than I usually read, but it was set in 1825 London/Cambridge and it sounded so cheekily fun, I went against my grain and decided to give it a try. Happily for me, it delivered on all counts, proving to be a charming and diverting story.I had read one novel prior to this by the same author (The Secret Diaries of Miss Miranda Cheever), which was a merely decent novel, though with lovely prose. Just Like Heaven was a huge improvement, though it did seem a tad reminiscent of the same basic plot as The Secret Diaries in the introductory chapters (young noble girl must find husband, falls in love with a family friend, mishaps and misunderstandings occur, ensue and are, eventually, overcome).Ms. Quinn has several series and beloved characters that are referenced throughout the novel. For her more devoted readers, I am sure it is a fun insight into past storylines and cherished characters. For a two-time reader like me, all the Bridgertons, et al. mentioned made keeping all the characters and relations distinct more difficult. However, I managed to muddle through, and it was not too distracting from the main story. Cleverly, these cameos also made me curious about the other books Ms. Quinn has penned. Well done, there.I enjoyed every single character in this book, without falling in love with any. Honoria, our female lead, is spunky, musically inept and devoted to her large, fractious family. Family has always and will always come first for her. Tellingly, when her only brother is exiled in shame to the Continent she does not give up on him, even though most of the family seems to. Honoria, as are all females of the Smythe-Smith clan, is required from early teenage years until marriage to play an instrument and perform yearly in the world's most tone deaf musicale. Thanks to this 18 year tradition, we get to meet three of Honoria's numerous female cousins: the difficult but loving Sarah on pianoforte, the talented but whiny Iris on the cello, and the too-literal Daisy also on violin. These three were hilarious and have a familial camaraderie that is believable and viciously loving. I hope that the remaining three novels in this series focus on Honoria's cousins and their lives and loves.Marcus pulls off the brooding, reticent Earl admirably well. His hidden wit and unexpected humor were a good contrast to Honoria's more blatant sense of humor. Marcus is almost taciturn at the beginning of the novel, but he grew on me like moss. Slowly, but inexorably, I became more and more invested in this lonely, awkward Lord Chatteris. The inevitable mishap that keeps the lovers apart is mercifully short, and thankfully doesn't require either Honoria or Marcus to act out of character for it to happen. It genuinely comes across as a mishap, rather than a contrived plot point to ratchet up the tension and drama.All in all, just what it looked to be: easy, fun, with a happy ending for all. I fully intend to read the remaining three in the Smythe-Smith Quartet, and possibly even check out this author's numerous series.
Review by RubyA
16/06/2015
A mediocre effort at best.<br/><br/>I found the quartet of girls and their verbal "sparring" as dull as can be, and the girls all seemed the same to me. I thought Quinn really beat a dead horse with the musicale too. Ok, we get it, they stink, and the musicale is going to be horrible. Can we please move on now? I felt like the relationships in the novel weren't as fleshed out as they could have been and everything seemed very surface and skimmed over.<br/><br/>I thought Honoria to be ridiculous. She's seems immature and sort of childlike and not in a charming or amusing way. I think this book has the potential to open an entire world for the reader in the same way that the first book in Kleypas' Wallflower series did or even in the way the Duke and I did, but I ended the book not quite caring what happened to the other girls or anyone in the book for that matter. The only semi-intriguing characters was the governess and Daniel who were in the book for only a tinsy amount of time.<br/><br/>Next!
Review by Lauren2013
16/06/2015
Just Like Heaven
4.5 Stars

The Smythe-Smith series is a spin off of the Bridgetons. The tone, banter and romance are all reminiscent of the original books and on the whole the characters and story are captivating, although there are a couple of small issues.

To begin with, Just Like Heaven overlaps with Romancing Mister Bridgerton, which is fun as we get cameo appearances by Gregory and Colin as well as Lady Danbury (that woman is a scream). However, there is one glaring error in the timeline that may annoy some readers but didn't really bother me as it only becomes evident once the book is almost over - the line "Mr. Bridgerton's brother's wife's sister is married to Mr. Berbrooke's brother" in chapter 2 is a reference to Penelope Bridgerton. However, the musicale at the end of the book takes place before Colin and Penelope are married so the line is out of sync.

Second, Marcus and Honoria have a sweet and enjoyable romance, however, their chemistry, while there, does not build sufficiently and their one steamy scene leaves much to be desired.

That said, they are an engaging couple and their friends to lovers romance is charming and entertaining. Marcus is shy and finds it difficult to interact with others. His social awkwardness is concealed behind a dark and brooding facade but Honoria, who has known him most of her life, sees beneath his cool exterior to the lonely man in need of love and friendship. It is wonderful how comfortable they are with each other at a time when men and women were basically strangers when they married.

In sum, this book is laugh-out-loud funny. The antics and banter between the quartet members is delightful and had me giggling well into the night. Do not be surprised if you find yourself finishing this lovely, lively and angst free read in less than a day.
Also in the Smythe-Smith Quartet series | View all