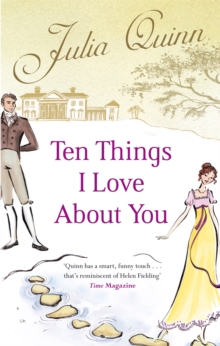 Ten Things I Love About You
Paperback
Description
Sebastian Grey is in limbo. He is the heir presumptive to the Earl of Newbury, unless the current earl, a widower, can find a bride who will bear him a son.
Newbury is in his sixties and somewhat portly, but as an earl he's considered quite a catch.
Sebastian, on the other hand, is twenty-nine and extremely handsome, but in no hurry to find a wife.Annabel Winslow, a country girl through and through, has received an offer to go to London for the season.
The eldest of a family of eight, she knows that a good marriage might be the only thing that will save her family from ruin.
After a few weeks in town, Annabel attracts the attention of the Earl of Newbury.
The thought of submitting to him makes her skin crawl, but she is practical and determined to do her duty.
Even when Sebastian Grey comes on the scene.
Information
Format: Paperback
Pages: 384 pages
Publisher: Little, Brown Book Group
Publication Date: 03/06/2010
Category: Historical romance
ISBN: 9780749941949
Free Home Delivery
on all orders
Pick up orders
from local bookshops
Reviews
Showing 1 - 1 of 1 reviews.
Review by CatyM
16/06/2015
Annabel Winslow, fresh from the country, is spending a season under her grandparents' sponsorship and hoping to acquire a husband who can rescue her extensive family from penury. Her foremost suitor is not exactly a catch, being old enough to be her grandfather and possessed of some distinctly unpleasant habits. He is, however, an earl, and possessed of serious cash. ("'And he'll die soon', her grandmother continued. 'You couldn't hope for more.'") Annabel, far from enthusiastic, is resigned to her fate. All that changes when she meets Sebastian Grey - an impecunious charmer with something of a reputation with the ladies, who also happens to be the nephew and heir presumptive of her elderly suitor. And nephew and uncle loathed one another even <i>before</i> they became rivals for Annabel's affection. Annabel and Sebastian share an instant attraction - but any day now the earl is going to be asking for her hand. If she chooses Sebastian, what will her family live on? Will Sebastian even give her that option? After all, she's only known him a few days...There's a fine line between 'this author has a distinctive style' and 'I feel like I've read this book before', and in both manner and turn of phrase this book strays too often from the former to the latter. That said, though, it's a solid offering. The character of Sebastian Grey has a lot more depth than in his previous cameo appearances, and Annabel Winslow is reasonably sensible. There is the usual supporting cast of good friends and slightly dotty relatives, and the villainous uncle is appropriately unpleasant rather than strikingly evil. There's comic banter and the plot flows well. I can't decide whether I agree with Quinn's decision to reveal Sebastian's <i>alter ego</i> in the prologue: the suspense that was built up in the previous book evaporates before this one starts, but on the other hand knowing what he does for a living does enrich the story in some ways. Were it not for one thing, this would be an entertaining read scraping a respectable 4/5. And that one thing is the infernal lists that crop up all over the place. They're twee, they're irritating, they're intrusive and they're plainly an authorial affectation rather than a part of the book. When Quinn had the character of Olivia in <i>What Happens in London</i> make lists, it worked: it was part of the character. When it's part of the narration, when several characters are making numbered lists in their internal monologues, it is annoying in the extreme.