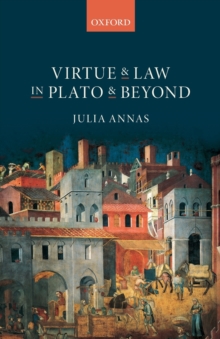 Virtue and Law in Plato and Beyond
Paperback / softback
Description
Julia Annas presents a study of Plato's account of the relation of virtue to law: how it developed from the Republic to the Laws, and how his ideas were taken up by Cicero and by Philo of Alexandria.
Annas shows that, rather than rejecting the approach to an ideal society in the Republic (as generally thought), Plato is in both dialogues concerned with the relation of virtue to law, and obedience to law, and presents, in the Laws, a more careful and sophisticatedaccount of that relation.
His approach in the Laws differs from his earlier one, because he now tries to build from the political cultures of actual societies (and their histories) instead of producing a theoretical thought-experiment.
Plato develops an original project in which obedience to law islinked with education to promote understanding of the laws and of the virtues which obedience to them promote.
Annas also explores how this project appeals independently to the very different later writers Cicero and Philo of Alexandria.