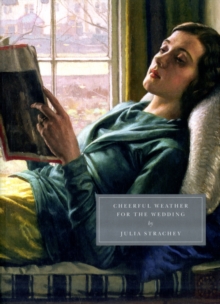 Cheerful Weather for the Wedding
Paperback
Information
Format: Paperback
Pages: 128 pages
Publisher: Persephone Books Ltd
Publication Date: 23/04/2009
Category: Classic fiction (pre c 1945)
ISBN: 9781906462079
Free Home Delivery
on all orders
Pick up orders
from local bookshops
Reviews
Showing 1 - 5 of 5 reviews.
Review by rainpebble
16/06/2015
Cheerful Weather for the Wedding by Julia StracheyI found this to be a bit disappointing. Yes, it was cleverly written. Yes, there are lovely bits of humor. Yes, I wanted to like it. I wanted to like it very much indeed, for this is my first disappointment in the many Persephone that I have read. I just wanted to reach into the book, pull the characters out one by one and stretch them before returning them to the story.The story is about the family & friends of a young lady who is to marry that afternoon and is having second thoughts about it. She is thinking that perhaps she is making the mistake of her life. Characters meander in and out of the rooms of the house as they meander throughout the story. One old sweetheart attempts all the day through to find the courage to talk to the bride and tell her that he cares for her and to attempt her to bust up the marriage before it begins but he just cannot manage at all and when he does catch her alone just before the wedding, it is only to find her in a dither with spilled ink on the front of her wedding gown. You see, she has been in such a state that she has been tippling from the rum bottle the day long.No, I can't say that I liked much about this one. The characters were flat and the story dull. But I hope when I come back to it one day my brain or the book will somehow have magically changed and I will find a substance in the book to accommodate me.
Review by 2chances
16/06/2015
This is one of those books that really makes me realize that even if I lived in London for eleventy-eight years, I would still only be faking being British. Usually I love black humor and acid send-ups, but this one...meh. Just not that funny, not that sharp, ...or maybe, as I said, I am just not British enough to appreciate it. The plot is disconnected and random (by design - it wasn't an accident), so if the humor isn't your cup of tea, you've wasted your nine pounds. I'm afraid I did just that.
Review by Cariola
16/06/2015
Over the past two years, I've collected about a dozen Persephone Classics, but this is the first one I've gotten around to reading. I can't say that I was very impressed. The novel, written in 1932, takes place on Dolly's wedding day--but we don't get to see the actual wedding. Dolly suspects that she may be marrying the wrong man and that she might even run off with Joseph if he confessed his love--but he doesn't, and she doesn't. This short book is mostly descriptions of the wedding preparations and the guests. While there are some amusing moments, I have to say that I was more bored than charmed.
Review by Smiler69
16/06/2015
The first thing anyone who decides to pick up this short novella should know is that the only thing that is remotely "cheerful" about it is indeed the weather on the day during which all the action takes place. Thankfully, I had read a few reviews and knew this before I'd even purchased the audiobook version of this Persephone book originally published in 1932, so did not suffer disappointment in that sense and on the contrary, enjoyed discovering how Strachey had described the situation at hand. On this day of lovely weather, guests and family have converged at Mrs Thatcham's house to attend her daughter Dolly's wedding. There reigns a great confusion there as Mrs Thatcham tries to get everything in order before the ceremony while giving contradictory instructions to the servants. None of the people assembled seem to especially look forward to the wedding and hold various meaningless conversations, while Dolly herself takes an inordinate amount of time getting ready in her room, where we learn she has been slowly getting drunk, drinking straight out of a bottle of spirits. An interesting little story which I could easily see being performed as a play.
Review by Aspenhugger
16/06/2015
"A sardonic and beautifully written novella which was first published in 1932 by the Woolfs at the Hogarth Press: 'I think it astonishingly good . . . complete and sharp and individual' was Virginia Woolf's verdict about this eccentric mixture of Katherine Mansfield, Cold Comfort Farm and EM Forster. On a brisk English March day Dolly is getting ready to marry the Hon Owen Bigham. Waylaid by the sulking admirer who lost his chance with her, and astonishingly oblivious mother, and her own sinking dread, the bride-to-be struggles to reach the altar with the help of a bottle of rum."~~back coverI'm surprised I didn't like this book more than I did, as I like Katherine Mansfield, Cold Comfort Farm and EM Forster. But I found it rather silly -- Joseph (the sulking admirer) seems wet and unfocused; the action shifted often enough that I rather lost track of Mum's "astonishing oblivion", and I kept expecting Dolly to decamp from the wedding, Mum and the sulking admirer to take control of her own life. But given that the book was written in the 1930s, I'm probably judging it from my own chronological perspective.Perhaps I was just distracted when I read it, and didn't give it enough attention. I shall have to go back and read it again.
Also in the Persephone Classics series | View all