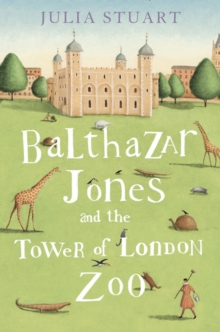 Balthazar Jones and the Tower of London Zoo
Paperback
Description
A poignant, magical and completely original novel that you can't fail to love, for fans of Joanne Harris.Meet Balthazar Jones, Beefeater at the Tower of London.
Married to Hebe, he lives and works in the Tower, as he struggles to cope with the tragic death of his son Milo, three years ago.The Tower of London is its own magical world; a maze of ancient buildings, it is home to a weird and wonderful cast of characters - the Jones's of course, as well as Reverend Septimus Drew, the Ravenmaster, and Ruby Dore, landlady of the Tower's very own tavern, the Rack & Ruin. And, after an announcement from Buckingham Palace that the Queen's exotic animals are to be moved from London Zoo to the Tower's grounds, things are about to become a whole lot more interesting...Komodo dragons, marmosets, and even zorillas ('a highly revered yet uniquely odorous skunk-like animal from Africa') fill the Tower's menagerie - and it is Balthazar Jones's job to take care of them.
Things run far from smoothly, though - missing penguins and stolen giraffes are just two of his worries!A touching, magical and entirely original debut.
Information
Format: Paperback
Pages: 336 pages
Publisher: HarperCollins Publishers
Publication Date: 01/02/2010
ISBN: 9780007345236
Free Home Delivery
on all orders
Pick up orders
from local bookshops
Reviews
Showing 1 - 3 of 3 reviews.
Review by nicx27
16/06/2015
Balthazar Jones, a beefeater at the Tower of London, lives with his wife, Hebe. Before, there were three of them, but their 11 year old son, Milo, died three years ago. When the Royal Menagerie is returned to the Tower of London from London Zoo, Balthazar is considered to be the perfect person to take charge of the exotic animals given to the Queen by other countries.This is a fabulous, quirky read. Before I read it I did wonder if it would be just too quirky for my liking, but I'm glad to report that it wasn't. The cast of characters is wonderful. Balthazar himself is a great creation, but then there's his wife who works in the Lost Property Office of London Underground, where the most amazing items are handed in, the chaplain of the church at the Tower who writes erotic fiction as a sideline, the Ravenmaster who is having a fling with a buxom cook and many more.I found the historical facts, such as the people who were imprisoned at the Tower, or died there, and details of the original menagerie, that are contained in the story to be fascinating, along with life as a beefeater. They all live on site, and are locked in after midnight, so a doctor also lives on site, and they have their own pub, church etc.This is a really unusual book, and I found it to be cleverly written. It held my attention throughout, and made me laugh and smile on many occasions. There is also the sadness of Milo's death running through the book, and the reader doesn't find out what happened to him until near the end.I got to the end of this book and felt totally satisfied by the read, but sad to have finished it, so I think that counts as a great read for me.
Review by SylviaC
16/06/2015
I almost stopped reading <i>Balthazar Jones and the Tower of London Zoo</i> after the first chapter, because it seemed like it would be too depressing. Then I read a few reviews, and decided to give it another chance. I'm glad I did, because I became enthralled from the first scene in the London Underground's Lost Property Office. The Reverend Septimus Drew's story was enjoyable, too, and Balthazar's zoo. The Ravenmaster's storyline didn't add much to the book for me, except to provide one thoroughly unlikable character. One of the nicest things about the book was that most of the main characters were easy to like, so I was eager to find out what would happen to them, and to cheer them on.. Something that started to bug me was the author's use of each character's full name every single time she mentioned them. It wasn't like I was going to mix Hebe Jones up with all the other Hebes in the book. (They were wonderful names--I just didn't need to see the whole thing every time.) Altogether, a very good book, and well worth persevering past that first chapter.
Review by Yvolyn23
16/06/2015
Enjoyed this after a slow start.t The characters in some ways reminded me of the outlandish and somewhat 2 dimensional Dickensian characters. People who are making the best of their lives in a unique setting. Needing to find out what happened to MIlo drives the reader on and the sadness running through the book is bearable as the characters move ever so slowly toward a satisfying ending.