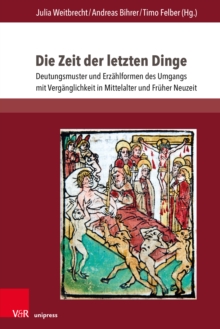 Die Zeit der letzten Dinge : Deutungsmuster und Erzahlformen des Umgangs mit Verganglichkeit in Mittelalter und Fruher Neuzeit
Paperback / softback
Description
The finiteness of human existence is anthropologically constant, but the forms of their perception are historically and culturally highly variable.
This volume examines different ways of dealing with death in the Middle Ages and early modern times.
In confronting one's own mortality, diverse coping strategies such as narratives, images, symbols and rituals for medieval thinking reflect fundamental aspects of temporality that can be described as phenomena of heterochrony.
The spectrum of the contributions thus opens up a differentiated historical understanding of the diverse exchange phenomena between this world and the beyond as well as the integration of divergent time horizons into medieval life practice.
Information
Format: Paperback / softback
Pages: 345 pages, mit 7 Abbildungen
Publisher: V&R unipress GmbH
Publication Date: 02/07/2020
Category: Literature: history & criticism
ISBN: 9783847110972