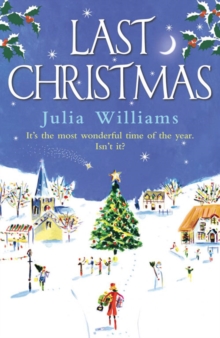 Description
It's the most wonderful time of year. Isn't it?Discover the true spirit of Christmas with this seasonal treat for fans of Love, Actually and The Holiday.Discover the true spirit of Christmas...Catherine Tinsall is dreading Christmas.
As the 'Happy Homemaker' she is an online sensation, but the reality couldn't be more different.
With Catherine's marriage in tatters, her children running wild and her mother increasingly forgetful, seasonal cheer is running low.Husband Noel also hides a secret: he's facing the axe at work.
Until he chances upon the village of Hope Christmas, deep in the Shropshire countryside, which could be the second chance he's searching for.
If he can save it from the developers...In Hope Christmas itself, schoolteacher Marianne Moore is trying to heal her battered heart.
But Christmas is a time for families, and memories of what she's lost haunt her at every turn.Meanwhile, Gabriel North faces a lonely Christmas but hides his sadness for the sake of his son.
Will his wife ever come home? Or does love lie elsewhere?All four need a Christmas miracle. And it might just happen - courtesy of a mysterious guardian angel ...
Forced to reassess their lives, will Catherine, Noel, Marianne and Gabriel discover what the meaning of Christmas really is?An irresistible gift of a tale that will warm the hearts of Christmas-lovers and Scrooges alike...
Information
Format: Paperback
Pages: 416 pages
Publisher: HarperCollins Publishers
Publication Date: 29/10/2009
ISBN: 9781847560865
Other Formats
EPUB from £1.74
Paperback from £6.59
Free Home Delivery
on all orders
Pick up orders
from local bookshops
Reviews
Showing 1 - 2 of 2 reviews.
Review by LARA335
16/06/2015
Looking at the train ticket bookmark, I can see I started this before Christmas 2010 and abandoned after a chapter or two. Picking it up 3 years later and re-starting, I can see what annoyed me so much the first time round. Williams is obsessed with giving every dull back-story, and explaining her characters at length every time they manage a 'hello', treating her readers as complete imbeciles who need everything spelt out and repeated. A scream of 'show' don't 'tell' was relentlessly cannoning round my brain. Bah humbug.Still, it had an attractive seasonal cover.Merry Christmas.
Review by Gorthalon
16/06/2015
A nice book. <br/><br/>The story is simple and sweet (and surprisingly believable)<br/>A few quick thoughts:<br/><br/>-Could have done with more show not tell, but overall the characters were pretty well fleshed out.<br/>-Hope Christmas seemed like a lovely place (5 stars for that!)<br/>-The book would be even better with an extra edit to cut out unnecessary words (too many repetitions)<br/>-Don't over-explain things! Readers aren't stupid<br/>-The mixture of 'last year' and 'this year' was an interesting plot device. For the most part, it worked really well. Sometimes the jumps were confusing or annoying.<br/><br/>All in all, it's a fun read - especially if you're in the mood for something Christmassy.<br/><br/><br/>