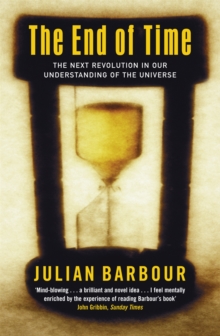 The End Of Time
Paperback
Description
Time is an illusion. Although the laws of physics create a powerful impression that time is flowing, in fact there are only timeless 'nows'.
In THE END OF TIME, the British theoretical physicist Julian Barbour describes the coming revolution in our understanding of the world: a quantum theory of the universe that brings together Einstein's general theory of relativity, which denies the existence of a unique time, and quantum mechanics, which demands one.
Barbour believes that only the most radical of ideas can resolve the conflict between these two theories: that there is, quite literally, no time at all.
This is the first full-length account of the crisis in our understanding that has enveloped quantum cosmology.
Unifying thinking that has never been brought together before in a book for the general reader, Barbour reveals the true architecture of the universe and demonstrates how physics is coming up sharp against the extraordinary possibility that the sense of time passing emerges from a universe that is timeless.
The heart of the book is the author's lucid description of how a world of stillness can appear to be teeming with motion: in this timeless world where all possible instants coexist, complex mathematical rules of quantum mechanics bind together a special selection of these instants in a coherent order that consciousness perceives as the flow of time.
Finally, in a lucid and eloquent epilogue, the author speculates on the philosophical implications of his theory: Does free will exist?
Is time travel possible? How did the universe begin? Where is heaven? Does the denial of time make life meaningless? Written with exceptional clarity and elegance, this profound and original work presents a dazzlingly powerful argument that all will be able to follow, but no-one with an interest in the workings of the universe will be able to ignore.
Information
Format: Paperback
Pages: 384 pages
Publisher: Orion Publishing Co
Publication Date: 01/03/2000
Category: Science: general issues
ISBN: 9780753810200
Free Home Delivery
on all orders
Pick up orders
from local bookshops
Reviews
Showing 1 - 1 of 1 reviews.
Review by Jewsbury
16/06/2015
Barbour has thought long and hard about how to abolish time as a fundamental quantity. He is inspired by what he presumes to be a Machian requirement – a cosmos of 3-space defined only by relative spatial coordinates. Certainly the book describes a valiant attempt at advancing the boundaries of knowledge. It is therefore fascinating to read. Yet history shows that telling nature how she ought to behave is usually as fruitful as a stroll in a minefield. Barbour proposes that the cosmos at every instant is a timeless snapshot of the relative positions of entities in 3-space. Barbour shows how we can form a picture in which time is a construct that we impose on a set of disjoint timeless 3-dimensional cosmoses. Naturally there is a conceptual configurational space holding all conceivable instants. The actual wavefunction of material reality sits in this configurational space. This universal wavefunction is timeless holding all that was, is and will be. The wavefunction spreads over the configurational space (each point of this space being a 3-space cosmos). However, having abolished fundamental time, he has to explain how cosmic instances have a sense of motion, a direction for time, and a record of a sequential past. It is thought likely that the contributions (to the universal wavefunction) of many configurations are mostly weak and/or effectively self-cancelling. He suspects that we only have to consider the rarer supportive configurations. These special configurations are suspected to be defined by a stationary relationship coinciding with the coherence of classically determined histories and futures. We regard these coherent configurations as actually realized sometime or other. This condition will probably ensure these configurations contain consistent records. These consistent records provide imprints of a definite past. Such imprints include books, personal memories, ice cores, tree rings, erosion, etc. A story that is plausibly consistent with many facts is an interpretation. For an interpretation to be an explanation, it also needs the backing of a paradigm. This is where Barbour's story is troublesome. He has a tentative paradigm but it is not robust enough to underpin all the principles he wants for his arguments. Thus ultimately the reader is left disappointed that Barbour's outline of a paradigm is not able, at present, to congeal into something more plausible than a skeletal conjecture. It cannot speak with the certainty of the existing worldview. Furthermore it does not shed light on the deeper questions such as the dimensionality of space, the existence of matter, and the intelligibility of the universe.
Also by Julian B. Barbour