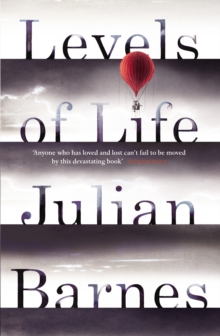 Description
You put together two things that have not been put together before. And the world is changed... In Levels of Life Julian Barnes gives us Nadar, the pioneer balloonist and aerial photographer; he gives us Colonel Fred Burnaby, reluctant adorer of the extravagant Sarah Bernhardt; then, finally, he gives us the story of his own grief, unflinchingly observed. This is a book of intense honesty and insight; it is at once a celebration of love and a profound examination of sorrow.
Information
Format: Paperback
Pages: 128 pages
Publisher: Vintage Publishing
Publication Date: 01/04/2014
Category: Autobiography: literary
ISBN: 9780099584537
Free Home Delivery
on all orders
Pick up orders
from local bookshops
Reviews
Showing 1 - 2 of 2 reviews.
Review by Opinionated
16/06/2015
Its amazing that the less Julian Barnes writes, the more he manages to fit it. A piece in 3 parts. In the first he talks about ballooning and uses it as a metaphor for love. In the second he talks about being grounded and wanting to soar. In the third he talks about descending to the depths and his grief at the quick death of his wife. The first 2 parts are interesting essays in themselves. The honest exploration of grief in the 3rd part is devastating and possibly the best thing he has written; its instantly recognisable to anyone who has lost anyone close and can be considered definitive. Superb and highly recommended
Review by bibliobibuli
23/09/2015
Although I didn't really enjoy the first part of the book (about balloonists) so much, was deeply moved by Barnes account of the loss of his wife and his meditation on the nature of grief. It's raw and honest. This is a book I know I will return to and reread, and I would recommend it for anyone who has experienced the loss of a loved one, or does not know how to talk to someone who has. The writing (of course because this is Barnes) is beautiful, and the extended metaphor he uses (height, depth, falling) works very well and gives a unity to the book as a whole.I also listened to the audiobook - beautifully read by the author.