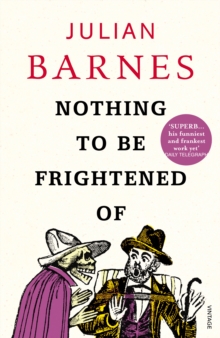 Nothing To Be Frightened Of
Paperback
Description
'I don't believe in God, but I miss Him.' Julian Barnes' new book is, among many things, a family memoir, an exchange with his philosopher brother, a meditation on mortality and the fear of death, a celebration of art, an argument with and about God, and a homage to the French writer Jules Renard.
Though he warns us that 'this is not my autobiography', the result is a tour of the mind of one of our most brilliant writers.
Information
Format: Paperback
Pages: 256 pages
Publisher: Vintage Publishing
Publication Date: 01/03/2009
Category: Autobiography: literary
ISBN: 9780099523741
Free Home Delivery
on all orders
Pick up orders
from local bookshops
Reviews
Showing 1 - 2 of 2 reviews.
Review by dylanwolf
16/06/2015
Julian Barnes' prose is described as fastidious or meticulous in two of the reviews comprising the blurb for this book. And that is right, Barnes is an excessively clean, hygienic writer. Nothing to be Frightened Of is a contemplation of death and plays on the ambiguity of the title. It is less an after dinner speech than an amiable conversation with a dinner partner who is too polite and sympathetic to be offended by your dumbness and inability to respond. Essentially a dialogue as a monologue. It is a tender rather than tendentious consideration of our relationship to mortality. There are no frightening figures but plenty of literary allusions. A comfortable rather than comforting read, perhaps a little indulgent. There is a slight feeling, one that I get a lot with Barnes, that the book is written more for the author than the reader. Nevertheless there are some laugh out loud funny pieces which help to lighten the overall fairly downbeat approach.
Review by a_forester
27/08/2015
With his usual wit and wisdom, Barnes manages to take the reader through a thorough exploration of the subject, which is 'the elephant in the room' of humanity, death. It is what everyone wants to talk about and no one wants to talk about. It gets us all in the end and death can work backwards effecting our everyday approach to life. In what can only be described as a writer's understanding of how to tell a story in which the end is always present, Barnes takes us through the history of great thinking about death. He covers philosophy, art, tells us what great people have said about death and their last words. Barnes also shares his own observations about the life and death of his parents, his non-belief in God and the longings, which effect his perception of what death, and dying might be like. In the end, one wonders if the sibling rivalry between himself (a novelist) and his brother (a philosopher) might be symbolic of the struggle between our desires for some kind of emotional closure, perhaps even some kind of salvation and the cold logic that there can be no other life when life expires. I'll take Barnes as guide on any tour and any subject, even one as illusion busting and morose as death, because, by golly, it feels like I'm more ALIVE when in the company of this great writer.