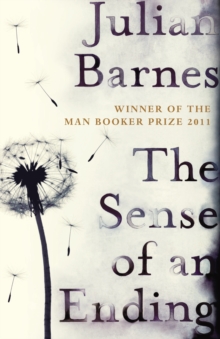 The Sense of an Ending
Paperback
Description
***Winner of the Man Booker Prize for Fiction******Now a major film starring Jim Broadbent and Charlotte Rampling***Tony Webster and his clique first met Adrian Finn at school.
Sex-hungry and book-hungry, they would navigate the girl-less sixth form together, trading in affectations, in-jokes, rumour and wit.
Maybe Adrian was a little more serious than the others, certainly more intelligent, but they all swore to stay friends for life. Now Tony is retired. He's had a career and a single marriage, a calm divorce.
He's certainly never tried to hurt anybody. Memory, though, is imperfect. It can always throw up surprises, as a lawyer's letter is about to prove. 'A masterpiece' Daily Telegraph 'Mesmerising' Independent 'Wonderful' Irish Times
Information
Format: Paperback
Pages: 160 pages
Publisher: Vintage Publishing
Publication Date: 01/03/2012
ISBN: 9780099564973
Other Formats
Paperback from £6.65
EPUB from £4.99
Free Home Delivery
on all orders
Pick up orders
from local bookshops
Reviews
Showing 1 - 5 of 10 reviews.
Previous | Next
Review by Luli81
16/06/2015
"The Sense of an Ending" is that kind of introspective book that could ruin what is left of my so-called social life. But well, the heart asks for pleasure first, and I have always been easy to succumb into temptation. Bittersweet temptation in this case.Julian Barnes took my hand, and through Tony Webster's voice, allowed me to walk down his memory lane, or as he would say, the best version of the memory he might have created, his version of the facts. Time and truth. Slippery subjects.Tony has had an ordinary, peaceful life: a career followed by a comfortable retirement, an amicable marriage (and divorce), a child who left the nest successfully years ago. What we should all expect from "life", I guess.But then, as he revisits his youthful days, the young man that once, long ago, was himself and whom he has carried inside for all these years, mocks back at him and says "Is that everything you managed to do?" His so coveted ordinariness doesn't seem so comfortable now age is pressing on him.On the first section of the book, the reader can "remember" along with Tony: his first experiences in High School and later in the University. Sex-hungry, book-hungry gang of men-to-be, Tony and his peers are arrogant, awkward and naive. It was a joy to see the delicate but incisive way in which Barnes describes the unspoken repression of the Sixties and its toll in each of the characters, especially Adrian, who ends up committing suicide, and the enigmatic Veronica, Tony's first and failed attempted girlfriend who later starts dating Adrian. Forty years later Tony receives a letter from his attorney informing him that he had been left Adrian's diary in a will, withhold by Veronica during all these past years, and as Tony reopens his relationship with her in order to obtain the diary, he starts to relive his past realizing on the way that his memories might not be as trustworthy as he thought. "But time...how time first grounds us and then confounds us. We thought we were being mature when we were only being safe. We imagined we were being responsible but were only being cowardly. What we called realism turned out to be a way of avoiding things rather than facing them."And so it begins his obsession to recover Adrian's diary, the only document which might be the only evidence of what his unreliable and subjective memory can't (or won't) prove for certain. Shame, remorse and despair his only companions during this last journey to an inevitable and desolating conclusion, which for me, wasn't the best of this story.The veracity of testimony, a tricky subject to dwell on. Isn't Toby's first account of the facts following an instinct for self-preservation? But is it deliberate? And, to a greater extend, does it not happen the same with History? Isn't the History we are taught at school the one told and passed on by those who prevailed? Those who won? But what about the version of the ones who perished on the way?"History is the certainty produced at the point where the imperfections of memory meet the inadequacies of documentation."And although I agree with other readers who criticized the lack or originality or the pretentious tone of the narrator, I guess that for me, it's not as much "the what" but "the how" which matters. And Tony's realistic and not a bit nostalgic voice stirred something in me, even though he is not a likable character.This novel has left me disheartened and wanting somehow. I haven't found what I (or Tony?) was looking for. No redemption, no second chance to atone for our actions (sins?). And the realization that sometimes even our perfect framed memories can be deceitful is depressing. There might come a time when we have to be brave enough to stop cheating, not only to others, but mainly to ourselves.And in that sense, I have experienced a premature death while still living, one which comes when the truth slaps at your face and awakens you from a long life lethargic sleep, when you have to accept that it's far too late because your own ending is coming into focus. "The Sense of an Ending". Indeed.
Review by LARA335
16/06/2015
Interesting rumination on memory and what significance certain memories hold for us. Why should a failed teenage romance seem significant, mystical, when following decades can grey and not be revisited in comparison?Had problems with Veronica, could not see her allure but found her unstable, neurotic if not completely bonkers - but then maybe those that get under our skin are not necessarily the most appropriate.
Review by Pondlife
16/06/2015
Too clever for its own good, and not enough plot for a novel are my two main criticisms of this book.The writing is good, and it's quite an enjoyable read, but there's only really one central plot. This, together with it's short length, means that it's more of a novella than a full novel. Nothing wrong with that, but I expected more from a booker prize winner.The plot is actually fairly simple, with one central fact that's only explained right at the end in classical "twist at the end" style. The author seems to drip-feed the information very slowly throughout the book, and it seems like he has to do this because there's actually not much information to begin with. This technique, together with a couple of mathematical equations, make the plot seem more profound than it really is until you get to the end. Then you think "was that it, I must have missed something".
Review by Britt84
16/06/2015
Short but lovely. I really like Julian Barnes, and this little book didn't let me down.One of the things I liked is that you really go along with the main character. You follow his 'discoveries' throughout the novel and find yourself drawing the same conclusions, and then having to adjust those conclusions as the character finds out he's wrong.It gave me a feeling of being close to the character, of really being there with him. Well-written, an interesting twist at the end and a story that draws you in effortlessly. Just a good, solid piece of work from a great author.
Review by Vivl
16/06/2015
It says something, I think, that I finished this only a week or so ago and am already having trouble recalling its substance. Two things I do recall: 1. I was reminded of <i>The Sea, The Sea</i>, particularly since both books have a first person narrator who is clearly unreliable and not the "nicest" person on the planet. That worked for me coming from Murdoch's pen but not here, possibly because, as well as his being generally rather a prat, I found Barnes' protagonist frankly dull. 2. The one character I really enjoyed was the main character's ex-wife (I've forgotten his name already! A.. A... Adrian? Maybe.) Not the most sparkling of reviews, for which I'm sorry, but the book inspires me to nothing more insightful. I do believe this is the first Booker winner I have read that I would judge to be a damp squib.