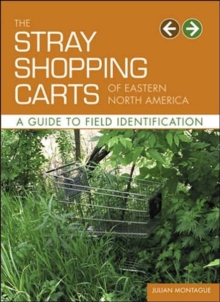 The Stray Shopping Carts of Eastern North America : A Guide to Field Identification
Paperback
Description
Despite the ubiquity of stray shopping carts, little effort has been made to comprehend the complex relationship between cart and landscape.
This is, in no small part, due to the fact that we have until now lacked a formalised language to describe these wayward carts in systematic detail.
That is, until now. In "The Stray Shopping Carts of Eastern North America: A Guide to Field Identification", a layperson is able to identify and classify their own cart spottings based on the situation in which they were found.
In five handy chapters, Montague leads the reader through his identification system, covering such bucolically littered locations as the Niagara River Gorge (where many a cart has been pushed to its untimely death) and mundane sites that look suspiciously like a suburb near you.
Information
Format: Paperback
Pages: 176 pages, cl/bw0/tt0 illustrations, cl250/bw/tt250 photographs
Publisher: Abrams
Publication Date: 31/03/2006
Category: Humour
ISBN: 9780810955202
Free Home Delivery
on all orders
Pick up orders
from local bookshops
Reviews
Showing 1 - 5 of 7 reviews.
Previous | Next
Review by Dystopos
16/06/2015
As a documentary project, this work is obsessive enough, but misses the mark on living up to its intentions, surviving as barely more than a joke.I bought it in order to inspire myself to create similar obsessive jokes. If it is inspiring, it's because I think I could do better.
Review by Mendoza
16/06/2015
After reading this well thought out field guide you will have a new appreciation for the occasional stray cart you pass. Is it a Class A False or a Class B True? You will run through the requirements for each in your mind and on your own begin classification of your find. After reading this guide you will even then be able to correctly determine sub classification. While I live in the 'Eastern North America' cited in this guide I am still eagerly awaiting further geographical sites to be expounded upon in future guides.I thank the author for taking up this mostly thankless task.
Review by orin
16/06/2015
Seriously, this will change your perception of shopping carts. After reading this, you'll have a weird sense of personification for shopping carts. How did they get there? What's going to happen to them? It doesn't happen until you actually experience your first stray shopping cart. You see it there, but you don't pay any attention to it. Then suddenly you find one at a gas station, and wonder, "Is that a True Stray?" Will it be ultimately be a victim of simple vandalism? Or will an agent from the Source rescue it?Seriously, this will change your view of shopping carts.
Review by ladycato
16/06/2015
To make things clear from the start: I'm a dork.The book appealed to such a high level of dorkiness that I couldn't help but love it. The title is exactly what you get - a detailed, full-color book showing the placement and condition of various shopping carts with a detailed taxonomy of class and type. It is 176-pages featuring over 250 pictures of shopping carts in various states of disrepair, imprisonment, and modified use. Most of the images are from around the Buffalo, New York area; being from a warmer climate, I had no idea that snow plows could destroy carts in such a way. Since the book is mostly pictures, there is little to read but the captions are very informative. For example, from page 142:This B/3 FRAGMENT, B/12 SIMPLE VANDALISM, B/14 ARCHAIC specimen was found in a creek that runs through an urban area. At the time of documentation, the SOURCE of origin had been closed for five years.Yes, all shopping carts are specimens, and their stores of origin are the source. The delightful thing about this book is that it is dead serious. You could go anywhere in the country - or indeed the world - and use Julian Montague's system to identify the location and condition of carts.There is an especially interesting section in the back devoted to the unique vandalism in the Niagara Falls River Gorge, complete with a map featuring zones of carts shoved off the cliff and the varying condition and age of the carts within each zone.I highly recommend this field identification guide to all fellow dorks who are amused and intrigued by wandering shopping carts. It's a true classic.
Review by melydia
16/06/2015
This is one of those books shelved in the humor section only because most bookstores don't have a WTF section. It is, in short, exactly what the title suggests: a study of shopping carts that have escaped their shops and parking lots. The subject matter is taken so seriously and each cart categorized so meticulously that it's difficult to accept that this is all truly meant as a joke. I read the entire thing, though, and actually quite enjoyed the photography. There's a certain beauty to the urban decay represented here. My favorite category, of which there was far too little, was "complex vandalism" - and more specifically, the cart somehow launched atop a street sign. I don't know that I would necessarily recommend this book to anyone, but I suppose there is a certain sort of person whose book collection would be incomplete without it. Find them, and give them this book.